Unlike NRTIs, NNRTIs are not introduced into the viral DNA to stop it but instead inhibit the movement of proteins that are needed to carry out the virus duplication.
---
SUSTIVA
(Efavirenz)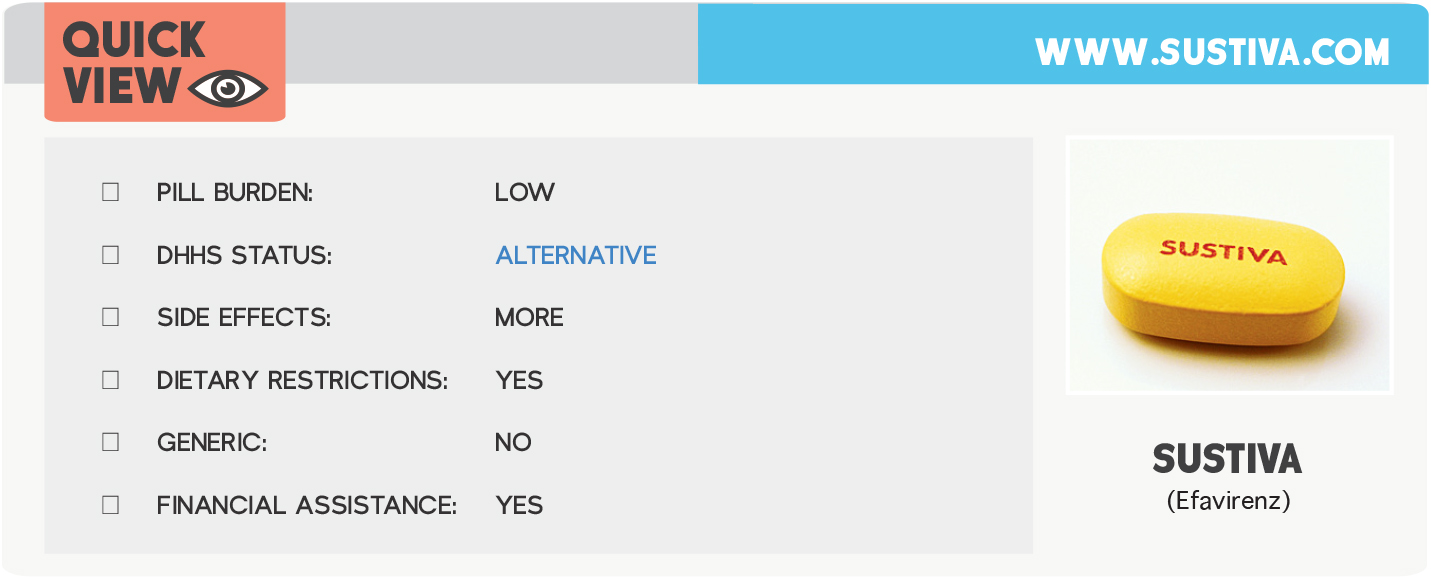 Manufacturer: Bristol-Myers Squibb (www.bms.com)
Sustiva (www.sustiva.com)
FDA approval date: September 17, 1998
Financial Assistance: https://www.bms3assist.com/bms3assist/
Comes in 50, 100, 200 and 600mg tablets. The recommended dose is 600mg, which is available in a single tablet, taken every night at bedtime. You should avoid taking Sustiva after high-fat meals.
Review: Sustiva was downgraded from "Recommended" to "Alternative" status in the current DHHS guidelines. However, Sustiva is still a first-class drug, and was considered the standard of care for HIV treatment up until the last few years. The dose is just one pill, once a day – making it very easy to take.
Sustiva is included in the highly effective, popularly prescribed and also recently downgraded to alternative status by the DHHS, single tablet regimen, Atripla.
Some starting out with Sustiva can have dizziness, vivid dreams, difficulty concentrating and mood changes but that subsides in many people after continued use.
Next year, efavirenz is scheduled to become generic in the U.S. market.
---
EDURANT
(Rilpivirine)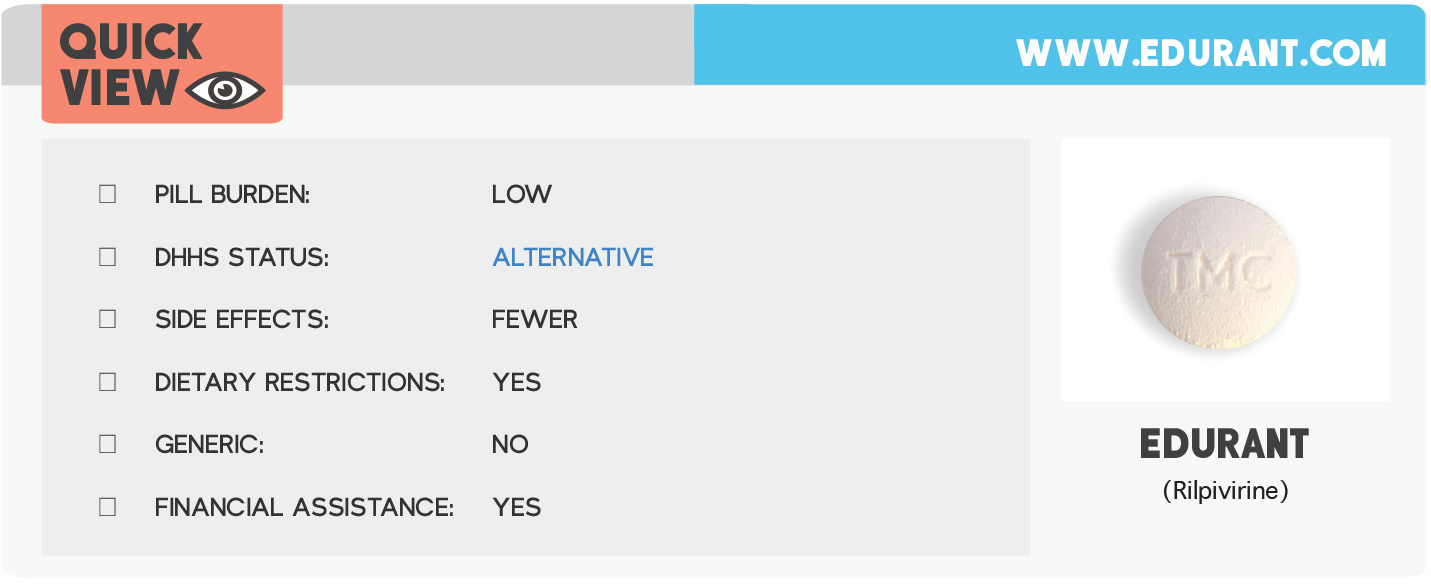 Manufacturer: Janssen Therapeutics (www.janssentherapeutics.com)
Sustiva (www.sustiva.com)
FDA approval date: May 20, 2011
Financial Assistance: https://www.jtsavings.com
Recommended dosage is one 25mg tablet taken once daily. It should be taken with a meal.
Review: Edurant is a newer NNRTI. It is currently listed in the DHHS guidelines as an "Alternative" component of initial therapy as an ingredient in the also newer single tablet regimen, Complera. Some who have a hard time tolerating Sustiva and continue to have problems with vivid dreams have been switching to Edurant or more so from Atripla to Complera. However, it is not recommended that individuals with a viral load of more than 100,000 copies/mL use Edurant for first-time treatment due to elevated potential for virologic failure and possible cross resistance to other NNRTIs. The small size of the pill also appeals to many who use it as a stand alone drug.
---
VIRAMUNE XR
(Nevirapine)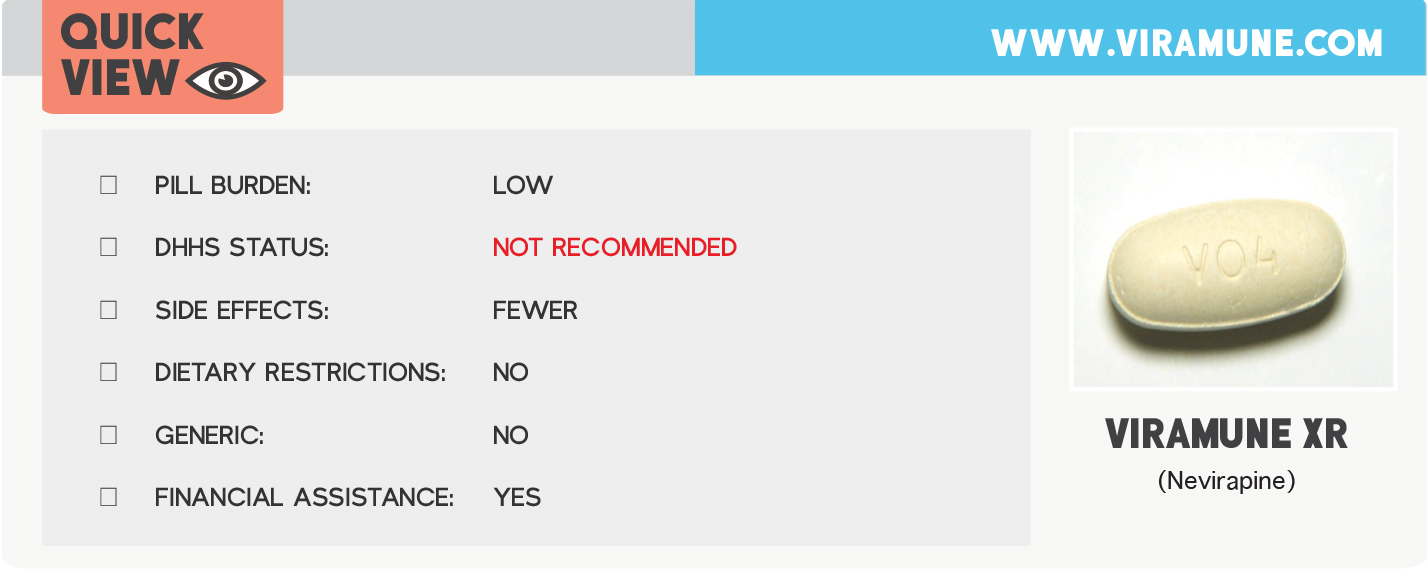 Manufacturer: Boehringer-Ingelheim (www.boehringer-ingelheim.com)
Viramune, Viramune XR (www.viramune.com)
FDA approval date: June 21, 1996
Financial Assistance: https://www.us.boehringer-ingelheim.com/our_responsibility/patients-families/patient_assistance_program_information.html
Comes in 200mg tablets, 400mg tablets and 50mg/5mL oral suspension. Recommended dosing is 200mg (one tablet) once a day for 14-days; then 200mg (one tablet) twice a day or one 400mg tablet once daily. Viramune XR recommended dosing is one pill, once a day.
Review: Viramune is classified as a "Not Recommended" drug in the current DHHS guidelines. Viramune's patents ran out in May of 2012 and is now available in the generic form nevirapine.
---
INTELENCE
(Etravirine)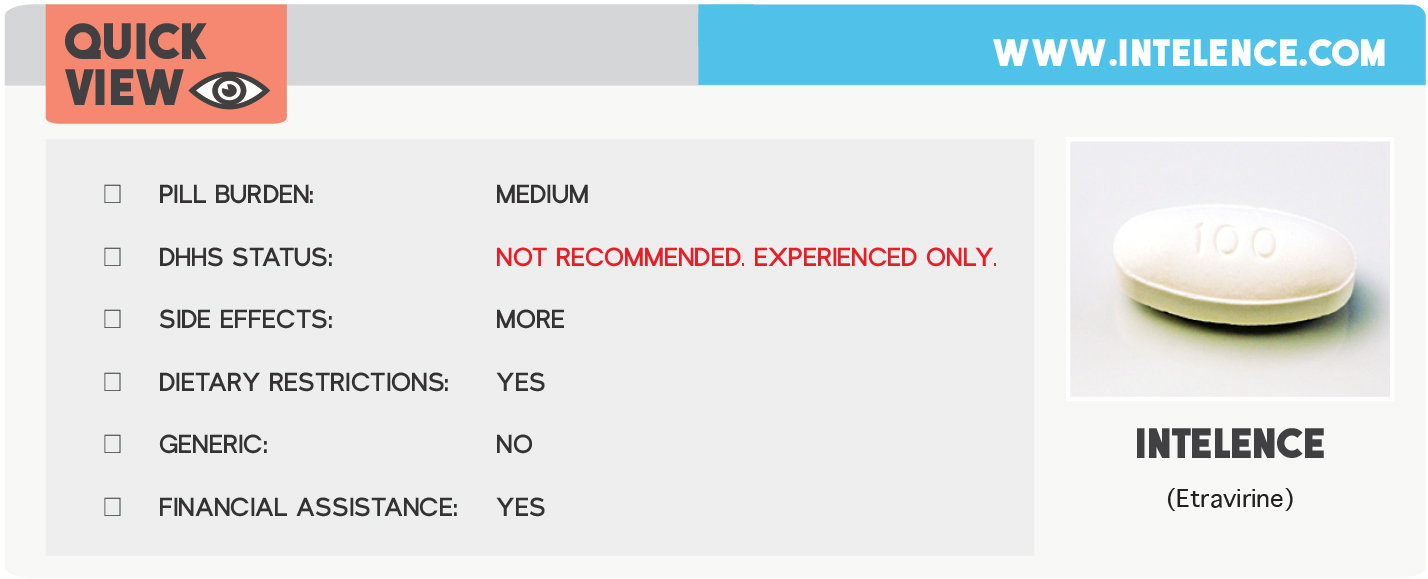 Manufacturer: Janssen Therapeutics (www.janssentherapeutics.com)
Intelence (www.intelence.com)
FDA approval date: January 18, 2008
Financial Assistance: https://www.jtsavings.com
The standard dose of Intelence is one 200mg tablet or two 100mg tablets, taken twice a day following a meal. A 25mg tablet is now available for children 6-years and older. Child dosage is based on weight.
Review: Intelence is at present only approved for use by treatment-experienced HIV patients who have resistance to other HIV drugs. Intelence is an option for patients who cannot take Sustiva or any of the other non-nucleoside reverse transcriptase inhibitors because of drug resistance. Usually, when you develop resistance to one drug in this class, you are resistant to all of them. Intelence breaks that pattern.
---
RESCRIPTOR
(Delavirdine)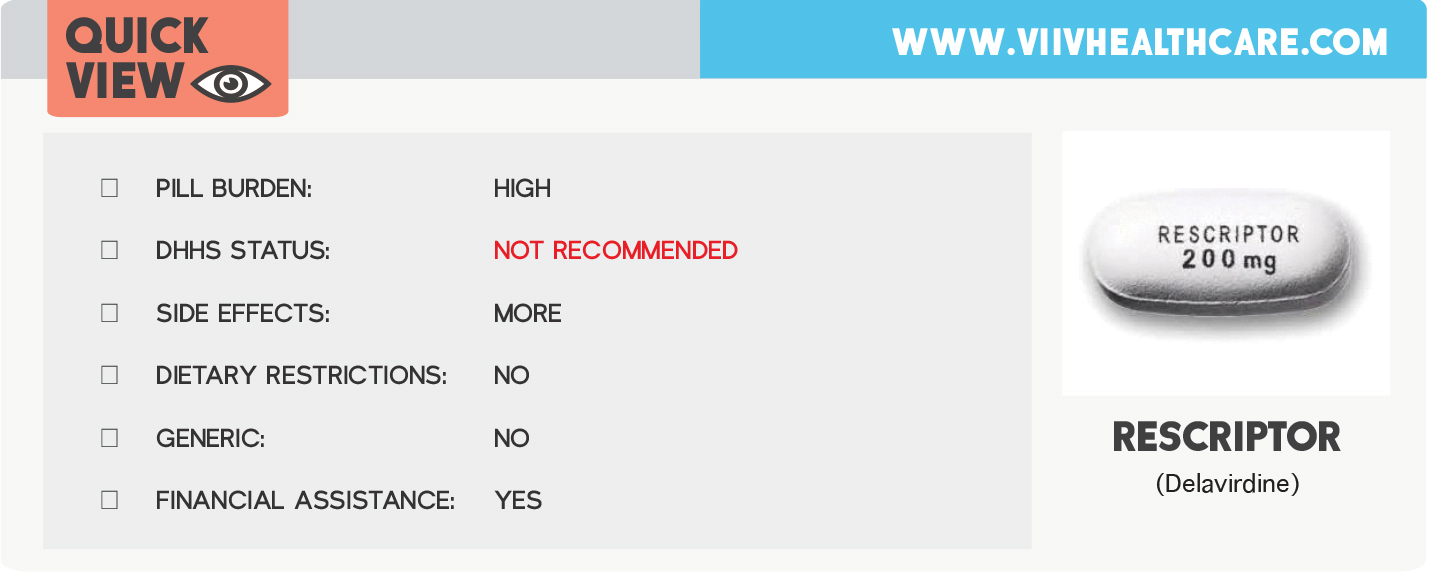 Manufacturer: ViiV Healtcare (www.viivhealthcare.com)
Rescriptor (www.viivhealthcare.com)
FDA approval date: April 4, 1997
Financial Assistance: https://www.viivhealthcareforyou.com
Rescriptor is available in 200 and 100mg tablets. Take two 200mg tablets or four 100mg tablets three times a day, 8-hours apart.
Review: Rescriptor is an old, initial attempt at an NNRTI. It has been eclipsed by newer and more effective NNRTIs and is virtually obsolete.
---
---
Copyright 2017, Positive Health Publications, Inc.
This magazine is intended to enhance your relationship with your doctor - not replace it! Medical treatments and products should always be discussed with a licensed physician who has experience treating HIV and AIDS!