This category is a booster category not an antiretroviral category. The PK Enhancer is used in combination with antiretroviral drugs to boost/increase their levels in your blood.
---
TYBOST
(Cobicistat)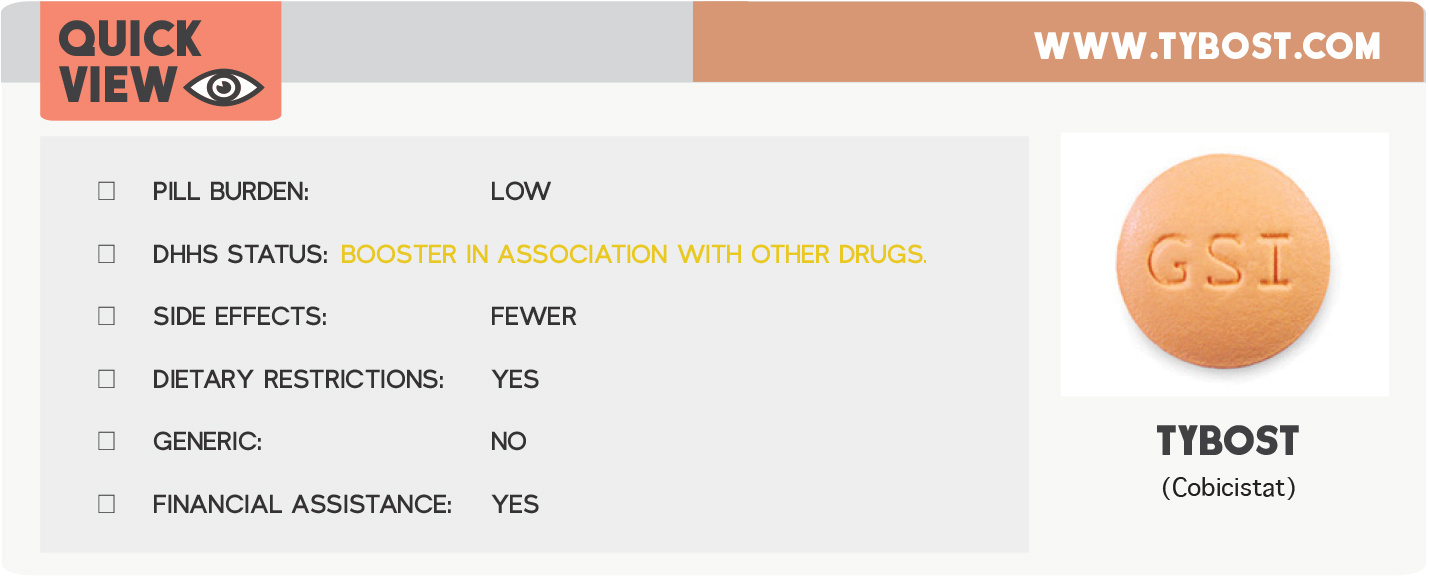 Manufacturer: Gilead Sciences (www.gilead.com) Tybost (www.tybost.com)
FDA approval date: September 24, 2014
Financial Assistance: https://www.gileadcopay.com
Tybost dosing is one 150mg tablet taken once a day with food.
Review: Review: Cobicistat is a drug used to boost the levels of other medications and is not in and of itself an HIV medication. It has no antiretroviral activity of its own. It is an alternative to Norvir. While still having some of the same side effects as Norvir, it received FDA approval to be co-formulated into one-pill dosing with Prezista (Prezcobix, approved on January 29, 2015) and Reyataz (Evotaz, also approved by the FDA on January 29, 2015) so that will be an advantage over Norvir by lessening the pill burden and also help decrease insurance co-pays. Cobicistat is currently included in the DHHS "Recommended" single tablet regimens Stribild that was approved by the FDA in August of 2012 and Genvoya that was approved November 5, 2015.
---
Single Tablet Regimens
Protease Inhibitors
Nucleoside Reverse Transcriptase Inhibitors
Non-Nucleoside Reverse Transcriptase Inhibitors
Fusion Inhibitor
Entry Inhibitor
---
Copyright 2018, Positive Health Publications, Inc.
This magazine is intended to enhance your relationship with your doctor - not replace it! Medical treatments and products should always be discussed with a licensed physician who has experience treating HIV and AIDS!