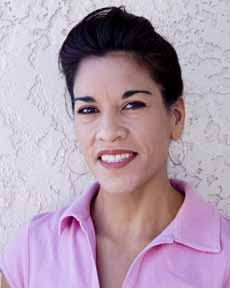 Evelyn Hernandez, then living in New York, married Greg Valentino on October 9, 1993. Two weeks later, Greg was diagnosed with HIV.

"Greg used to experiment with steroids at the gym," Evelyn says. "We think he may have got it by sharing needles."

Two weeks after that Evelyn went for an HIV test of her own.

"I felt sure I'd be fine," Evelyn says. "Greg was already losing weight but I didn't have any symptoms at all. Unfortunately, I was wrong, and my results were positive, too."

This was in the days before effective treatments for AIDS existed, and eight months later Greg died. "I was 29 when I got married and 29 when I became a widow," Evelyn says.

At the time, Evelyn was working as a legislative analyst for the Speaker of the New York State Legislature, and she continued in that job for another five-and-a-half years. But her health began to decline.

"I had two older brothers in California who wanted me to come out there," Evelyn said. "At that point, I didn't know how long I had left, so in 1998 I went to California to join them." Evelyn found a good doctor at the UCLA Care Clinic who managed to get her health stabilized. And then she began to look around for something to do. One thing that was obvious to her was the lack of resources available to women – especially Hispanic women – with HIV. And so she started an ASO called "Working Wonders" from her kitchen table.

"I'm not a very religious person," Evelyn says. "But I'm a very spiritual person. I reached out to God to ask what I needed to do. He showed me the way and I followed in pure blind faith, not knowing where the funding was going to come from, or how to set up a non-profit corporation. But I did some research, filed the papers, was approved, and I just knew this was the path God had set me on. And I have continued on that path."

The end result is an ASO headquartered in Cathedral City, California which is, as they describe themselves, "small but mighty." The staff consists of CEO Evelyn, COO Wayne Fleischer, and Program Manager Josie Diaz. With help from volunteers and an active Board of Directors, they manage a case load of 250 clients and have provided prevention/education services to more than 1,500 people in the past year.

The agency specializes in services for women, but it doesn't turn anyone away. Approximately 25% of their clients speak Spanish exclusively, and the remainder are either bi-lingual or English-speaking. The agency provides referrals to the full range of its clients needs, including medical and psychological help, housing, case management, and food.

"Local physicians call me when they have a new diagnosis of HIV," Evelyn says. "Especially if it's a woman. Since I have been living with AIDS for more than a decade, I can usually answer their questions. We try to reduce their fear and anxiety, let them know that there is help and that we'll guide them through the process."

"For Spanish-speaking women to receive information and materials in their own language and to come to our office where they feel safe is really important," Evelyn says. "We have a children's room here, so they're welcome to bring their kids and other family members with them. We want their support system to have the information they need also."

One of Working Wonders' newer initiatives is helping clients on disability return to work.

"So many of us are living longer now, a lot of our clients want to go to school or back to work. But they have questions about their benefits," Evelyn says. "Our COO has experience helping people make this important transition. We want to empower our clients to take care of themselves and their families. We let them know they can take care of themselves, regardless of their HIV status."

"People feel comfortable in accessing services here because they know I walk in their shoes," Evelyn says. "They see me as a peer who can truly understand what they're going through."

"Our office is not sterile, it's homey," Evelyn says. "We've created an environment that is accepting and welcoming to women with HIV – and honors them."

You can contact Evelyn at:

Working Wonders
35-325 Date Palm Drive, Suite 232
Cathedral City, CA 92234
760 324-7586




Copyright 2018, Positive Health Publications, Inc.

This magazine is intended to enhance your relationship with your doctor - not replace it! Medical treatments and products should always be discussed with a licensed physician who has experience treating HIV and AIDS!