In the early days of the HIV epidemic in the United States, one of the biggest problems people faced was AIDS-related wasting. "Wasting" commonly involves involuntary loss of weight or lean body mass. The strict definition adopted by the Centers for Disease Control and Prevention involves a loss of more than 10% of body weight.
Today, fortunately, effective treatments for HIV have made wasting, along with AIDS-related dementia, Kaposi's Sarcoma and other AIDS-defining conditions much less common. But maintaining body weight is still sometimes a problem for people with HIV.
How much of a problem?
"The truth is, we don't know to what extent involuntary weight loss and wasting occur among HIV patients today," says Eric S. Freedland, MD, Director of Medical Affairs for Serostim at EMD Serono, Inc. "Certainly with the availability of Highly-Active Anti-Retroviral Therapy (HAART), opportunistic infections and wasting have declined. We're not seeing the number of cases that resemble concentration camp survivors like we saw before 1995. Today wasting can be a lot more subtle in the way it presents itself but it has not disappeared."
Dr. Freedland points to two groups who still sometimes have problems with involuntary weight-loss:
1) "Some involuntary weight-loss that results in wasting may occur among HIV patients on HAART whose virus is well-controlled. When they have a sudden loss of weight due to relatively mild challenges such as a bout of stomach flu or diarrhea, they sometimes have a hard time regaining the weight they lost," Dr. Freedland says.
2) "Another example we see is patients who have been on treatment for many years and are doing fairly well. Often their physicians or their friends notice that they have become thinner. Sometimes the change is very gradual, sometimes it seems to be more sudden. Why this occurs is not always clear. Sometimes it may be due to resistance to their medications, but other times it occurs despite good viral control."
If you weigh less than you would like, what are your options?
"The first step is to look for an underlying reason," Dr. Freedland says. "Less than ideal control of your viral load or developing resistance to medications may make you more susceptible to wasting. In earlier years, wasting was one of the first signs that HIV was turning into AIDS. Have your doctor check your viral load and your T-cell count, and review your therapy."
Another strategy is to consider your diet and exercise program.
"Of course, you want to make sure your nutrition and exercise program is optimal," Dr. Freedland says. "You don't want to exercise so much that you're burning lots and lots of calories, but the addition of resistance exercise (weight training) can help people build lean muscle mass. Again, consult with your physician and a dietitian or nutritionist for advice."
If those steps don't work, you might consider an appetite stimulant like Megace (megestrol acetate) or an anabolic steroid like oxandrolone that is approved for the treatment of wasting by the U.S. Food and Drug Administration. Serostim, a recombinant Human Growth Hormone (r-hGH) is the only therapy for HIV-wasting FDA-approved to increase weight and lean body mass, and improve physical endurance.
"Human Growth Hormone works in different ways," says Dr. Freedland. "It has an anti-catabolic effect: it reduces the breakdown of muscle tissue. At the same time, it builds up the amino acids and proteins in muscle, which is an important part of your lean body mass.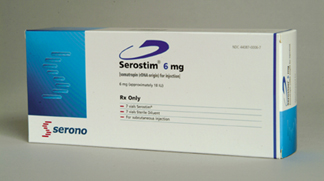 So it both protects the muscle from breakdown and at the same time promotes its growth."

Another product you might consider to help build lean body mass is a medical nutritional product called Juven, which has long been popular in the HIV community.

"Juven has been on the market since 1994," says Tracy R. Smith, PhD, RD, LD, a research scientist with Abbott Nutrition. "Abbott acquired Juven in 2004. The product got its start in the HIV community, and already had quite a following at that time."

"Juven was tested among sedentary HIV patients who had lost 5% of their body weight" Dr. Smith says. "In an eight-week test, those taking Juven gained an average of 5.5 pounds of lean body mass, while the control group lost 1.5 pounds of lean body mass.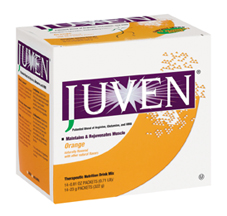 It's a great-tasting, simple-to-take solution for people who are losing lean body mass due to HIV or cancer. Lean body mass is functional tissue-organs, muscle, and skin-that is vital to life. It is critical for HIV patients to maintain their lean tissue in order to feel well, fight infection and remain independent"




Copyright 2018, Positive Health Publications, Inc.

This magazine is intended to enhance your relationship with your doctor - not replace it! Medical treatments and products should always be discussed with a licensed physician who has experience treating HIV and AIDS!