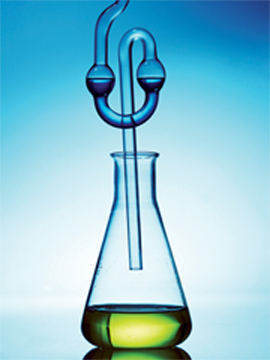 For years, people in the HIV community have assumed that a person getting HIV treatment was less likely to spread the disease than someone who was not taking medications. It's just common sense that a person with an undetectable viral load would be less infectious than a person whose virus is raging out of control.
Furthermore, there have been indications that HIV treatment reduces transmission. For example, researchers in British Columbia recently noted that the rate of infection in that province declined when they adopted a policy of widespread HIV testing and early treatment.
But there was never proof. There was never a randomized, controlled trial – the gold standard of medical research – proving that treatment reduces transmission. Until now.
A study just released involved 1,763 couples in five African countries, as well as Brazil, India, Thailand and the United States. The couples included one partner with HIV, and one without.
In half of the couples, the HIV-positive person immediately went on HIV medications. In the other half, the infected person did not go on meds until his or her CD4 (T-cell) count fell below 250. All participants were encouraged to use condoms.
In four years, 28 of the people in the study got HIV from their partner. 27 were in the group that delayed going on medications. Only one was in the group that started on medications immediately. That works out to an astounding 96% reduction in transmission. The findings were so striking that the National Institutes of Health (NIH), which oversaw the research, stopped the study early to get the word out.
"There is clearly a benefit of a profound decrease in the probability of transmission," said Dr. Anthony S. Fauci, head of the NIH, in a news conference.
"This is beyond expectation," said Michel Sidibe, head of UN AIDS, the United Nations' AIDS program. "It could completely change the way we deal with the epidemic."
It is interesting to note almost all the couples involved in the survey were heterosexual. The researchers wanted to include large numbers of gays in the study as well, but gays proved to be too HIV-savvy to participate – they knew what the outcome would be, and no one wanted to be in the group that delayed treatment.
In an ironic and regrettable twist, this proof that HIV treatment prevents new infections comes at a time when more than 8,000 Americans with HIV are on waiting lists for treatment, due to underfunding of the AIDS Drugs Assistance Program. AIDS activists point out that fully funding ADAP would lead to savings in the end by ultimately reducing the number of people who need treatment.
Despite this study, public health officials still recommend that people with HIV always use condoms during intercourse.
"HIV-positive people cannot assume they are not infectious simply because they are on treatment medications," said Dr. Thomas Frieden, director of the Centers for Disease Control and Prevention. "Condoms remain crucial for protection."
Copyright 2018, Positive Health Publications, Inc.
This magazine is intended to enhance your relationship with your doctor - not replace it! Medical treatments and products should always be discussed with a licensed physician who has experience treating HIV and AIDS!