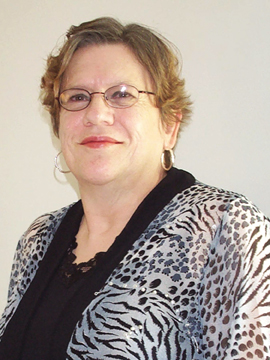 "Theresa Parrish was diagnosed with HIV and hepatitis C in 1989. She traces the infection back to a blood transfusion she received in 1983, before the blood supply was tested.

"I felt like my world was turned upside down," Theresa says. I had just read an article on HIV a few weeks earlier that said women weren't at risk. I thought, 'Why me?' I was a mother of five. I wasn't a drug user, wasn't promiscuous, wasn't 'out there.' I was angry. I was depressed. All the usual stuff."

With her T-cells at 200, she was also worried about how she was going to pay for her medications. AZT was the only drug available, it was very expensive, and she didn't have insurance. She enrolled in a clinical trial to get her drugs. As new drugs came available, she cycled through different drugs, continuing to participate in clinical trials as a way to afford the medications. Finally she wound up on a regimen of Viracept, Epivir and Zerit that she has maintained for close to ten years. Her viral load is undetectable, and her T-cells have rebounded to 750.

Unfortunately, HIV was not the only thing she had to worry about.

"In 1998 or 1999, my doctor told me, 'We're going to have more trouble with this hep C than we'll have with HIV.'"

He was right. "In 1999 I got really sick," Theresa says. "It was the beginning of cirrhosis. By 2001, I had end-stage liver disease."

When Theresa asked about the possibility of a liver transplant, she was told there was no chance of it. But she did her research and found that liver transplants were just starting to be done for people with both HIV and hepatitis C.

"In December of 2001, they flew me to Pittsburgh for an evaluation. I was in bad shape. They pumped me up with steroids and did every test imaginable. From January through May, I was in and out of the hospital. When your liver's not working, it's not pretty."

Theresa was in a coma when the call came and she got her transplant.

"It was quite an experience," Theresa says. "My kidneys had failed, too. After the transplant, the liver worked, but my kidneys didn't. About three weeks later, my kidneys finally started working again, and they've been working ever since."

Theresa was one of the first 12 people dually infected with HIV and hep C to have a liver transplant.

"It was the beginning of a new beginning," Theresa says. But her problems weren't yet over. "When they were trying to get me to walk again, they dropped me and broke my leg, so I was in re-hab for six weeks. My hep C came back full-force, so I had treatment for that for two years. Believe me, PEG-Intron is no piece of cake. Fortunately, I have a good husband who has been with me for ten years now. I helped him through a drug problem, and he helped me through my transplant."

Fortunately, Theresa's story has a happy ending.

"I'm non-detectable for both viruses now," she says. "I've been non-detectable for hepatitis C for two years. I'm working for the American Red Cross as an HIV/ AIDS instructor. I teach people you don't have to die with this, you can live with it."

Theresa's advice for those newly diagnosed with HIV?

"Have your cry," Theresa says. "And then learn how to live again. Get all the information you can. People die from lack of knowledge. A lot of people still think HIV is a death sentence, but that's not true."

"I'm not going to tell you it's an easy street, but you can live with it," Theresa says. "I have lived to see four grandchildren so far, and I thank God every day for that. I once just hoped to live long enough to see my kids graduate from high school, but I have lived, way, way beyond that. My youngest child is 25 years old."

"In some ways it has enhanced my life," Theresa says. "My family is closer than it has ever been. When I was diagnosed, my sister and I were at odds, but now we're close again."

"I'm just really glad to be alive. I'm glad my brain's still working. I'm blessed to be here. I feel that my mission was to come back and let everybody know, 'Look, you can live!'"




Copyright 2015, Positive Health Publications, Inc.

This magazine is intended to enhance your relationship with your doctor - not replace it! Medical treatments and products should always be discussed with a licensed physician who has experience treating HIV and AIDS!