We may look back at this as an historic event in the fight against HIV and AIDS: for the first time, the trial of an HIV vaccine has reported positive results.

The trial was conducted in Thailand. It involved 16,400 test subjects, half of whom received a placebo, and the others the vaccine. Twenty-three fewer people got infected in the vaccinated group. That small difference in infected participants-51 among 8,197 vaccinated volunteers versus 74 among 8,198 people on placebo-calculates to a modest 31-per-cent rate of protection, not enough to make this vaccine usable in its current form.

But it is big news because this was the first trial of an HIV vaccine that resulted in any protective effect!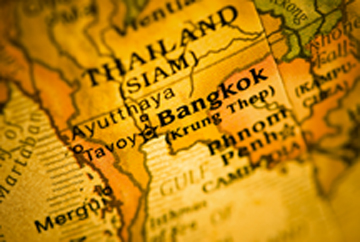 We talked with Dr. Alan Bernstein, executive director of the Global HIV Vaccine Enterprise-a worldwide alliance of researchers, funders, policy makers and activists.
"Thirty per cent protection is not enough to distribute a vaccine," Dr. Bernstein said. "But there are two things about the results of this trial that are worth celebrating. One is that this is the first time we got a positive level of protection in a vaccine trial on humans. The other is that now we can examine what's going on in these people, and try to develop a vaccine that will give us 90% protection."
The Thai HIV vaccine trial test combined two previous failed vaccines. ALVAC-HIV uses a harmless bird pox virus to deliver portions of the HIV envelope to induce the formation of antibodies. AIDSVAX replicates the protein appendages found on the outer shell of HIV, to stimulate the immune system to attack the viral invaders.
The six-year, $105-million trial was conducted in the coastal provinces of Rayong and Chon Buri in southeastern Thailand. Volunteers received six injections over six months, four initial doses of ALVAC, with two booster shots of AIDSVAX.
Sponsors of the trial included the U.S. Military HIV Research Program (MHRP), the U.S. National Institute of Allergy and Infectious Diseases (NIAID) and sanofi pasteur-as well as the Thailand Ministry of Public Health, and Global Solutions for Infectious Diseases (GSID).
Dr. Bernstein compared the vaccines used in this trial to the discovery of the first drugs that were effective against HIV.
"The first AIDS drugs were Model T Fords," Dr. Bernstein says. "We've now got a Model T vaccine. It's something to build on. It's a proof of concept, a proof of principle. It's an historic moment, and we will build on it. But it won't happen on its own. We'll need the kind of activism to drive this forward that helped us go from AZT to the powerful drugs we have today."
The way forward won't be easy, because vaccine trials are much more difficult than drug trials. "With drug trials you start with a patient who has the disease, and you're looking for an immediate result," Dr. Bernstein says. "With a vaccine trial, you're starting with healthy volunteers, only a few of whom will ever be exposed to the virus. So you need much larger numbers of people, and the trials are much more expensive."
Despite the challenge, Dr. Bernstein is optimistic that we will wind up with an effective vaccine.
"There's a real energized feeling in the scientific community," Dr. Bernstein says. "We've got a toehold now. Before it was arguable whether we could do a vaccine at all. Now we know we can. It's going to take a lot of money, but I can't imagine a better investment we could make than to eradicate this virus from the planet."
"Governments need to step up to the plate and recognize that they now have a tremendous opportunity to help end this epidemic," Dr. Bernstein says. At present, 2.7 million men, women and children become newly infected with HIV every year across the globe.
Copyright 2018, Positive Health Publications, Inc.
This magazine is intended to enhance your relationship with your doctor - not replace it! Medical treatments and products should always be discussed with a licensed physician who has experience treating HIV and AIDS!