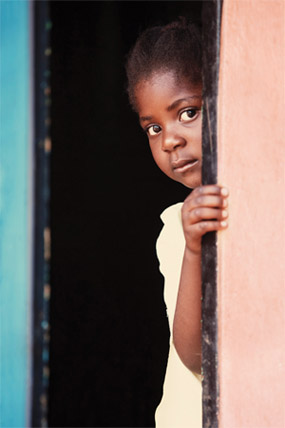 Young Heroes Foundation (YHF) has announced that it now supports over 1,000 AIDS orphans in the kingdom of Swaziland.
At the same time, the organization has opened registration for Swazi Challenge, which will include a four-day bicycle ride and playground building in the small African nation next May.
Founded in 2006, Young Heroes links sponsors who donate monthly stipends directly to specific families of orphans for them to use for food, clothing and other necessities. "When we began, we had 300 children on our register," says founder Steve Kallaugher. "Communities around the country asked if we would help their orphans as well, so we opened our registry to include 1,047 children in 582 families. We're delighted to announce that we've now secured sponsorship for our 1000th child, so we can now register more families and begin to try to help them."
According to Kallaugher, "As recently as five years ago, the idea of cash transfers was looked on skeptically. But our experience confirms much recent research that shows they're one of the most effective, efficient ways to guarantee food security and help stimulate local economies. We help stablize the family, so the children can remain together on their family homestead where they have the greatest sense of security, and where they'll have land to farm as they grow older."
In addition to providing stipends for basic necessities, Young Heroes also runs a highly regarded HIV testing and care program for the children. In partnership with Baylor College of Medicine's Center of Excellence and Population Services International (PSI), the project offers HIV/AIDS education; testing for children and their caretakers; male circumcision; and on-going monthly medical care and support groups for children who test HIV-positive, all free of charge. In conjunction with Newman's Own Foundation's Hole in the Wall Camps and other partners, Young Heroes also runs week-long camps for HIV-positve children twice a year.
Because education is expensive in Swaziland, the foundation also has a scholarship program. During the 2011 school year, this will help pay secondary-school fees for some 60 orphans.
Kallaugher says, "Now that we have food, health care and education programs in place, we have two major challenges. The first is to expand so that we can help many more children. The second is to put the last piece of the puzzle in place. In 2011, we hope to begin a skills-training and microfinance project for those who age out of our program when they turn 19. That's one reason we've created Swazi Challenge."
A Challenge That's Also Fun
Swazi Challenge builds on this year's highly successful Swazi Cycle, in which eight American riders bicycled border-to-border across the kingdom and raised over $100,000 for the orphans. Responding to requests to repeat the adventure next year, the organization has created Swazi Challenge, which will take place from May 20 – June 3, 2011.
"This year, we have even more planned for those who join us on the trip," says Kallaugher. "Non-riders asked us to do something for them, so this year the event will include two groups. While one is undertaking Swazi Cycle II, the other group will build playgrounds at orphan care points in rural communities."
"We've also timed the trip so we can all be there for Bush Fire, one of Africa's most exciting music and arts festivals. It's also one of the most socially conscious -- all of Bush Fire's profits are donated to Young Heroes.
This year's bike ride will circumnavigate Swaziland's most beautiful area:
Mountainous and fertile, the Hhohho region covers the northwestern quarter of the country. The ride will travel through national parks, rural villages and nature reserves, stopping at full-service lodges each evening, before ending in Swaziland's capital, Mbabane. Led by veteran endurance rider James Cox, Swazi Cycle II will take cyclists off-road deep into the Swazi countryside, to see a world that tourists never encounter and meet the generous, welcoming Swazi people.
At the same time, another part of the group will build two playgrounds at Neighborhood Care Points in rural villages. These community-based organizations, staffed by local volunteers, are centers where orphans can come to be assured of one meal a day.
In addition to participating in the ride or the construction project, participants are asked to raise funds for Young Heroes via pledges; 100% of all funds raised go directly to the orphans. "We ask that each participant try to raise $10,000, as they did this year, and we raise the same amount" says Kallaugher. "But no matter how much people are able to raise, they're welcome to join us, whether they reach the full goal or not."
For more information on Swazi Challenge, visit www.youngheroes.org.sz/challenge To register to join the trip and create a personal online pledge page, go to www.swazichallenge.dojiggy.com
ABOUT YOUNG HEROES
Young Heroes Foundation is a 501(c)(3) nonprofit corporation headquartered in Leeds, Massachusetts.
Now entering its fifth year, it was created by Steve Kallaugher while serving as a Peace Corps volunteer in Swaziland in conjunction with the country's National Emergency Response Council on HIV/AIDS (NERCHA). Mr. Kallaugher is currently a director of the foundation.
The program now supports orphans in 72 Swazi communities thanks to sponsorship support from individuals, foundations and corporations.
For full information on Young Heroes, visit www.youngheroes.org.sz
ABOUT SWAZILAND AND ITS ORPHANS
One of two remaining absolute monarchies on earth, Swaziland is bordered on three sides by South Africa, and by Mozambique in the east. The country is approximately the size of New Jersey, and has a population of just over one million people, the vast majority of whom are subsistence farmers. According to the World Food Programme, 69% of Swazis fall below the poverty line, living on less than $2 per day.
Swaziland has the world's highest rate of HIV/AIDS: Over 40% of adults ages 25-49 are infected, according to the most recent Global Sentinel Survey. Life expectancy, which stood at 60 years in 1997, now stands at 31.8 years – the lowest on earth.
According to UNICEF, over 120,000 Swaziland children under the age of 18 have lost at least one parent to AIDS; over 60,000 have lost both. It is estimated that there are nearly 20,000 child-headed households in the country.
Copyright 2018, Positive Health Publications, Inc.
This magazine is intended to enhance your relationship with your doctor - not replace it! Medical treatments and products should always be discussed with a licensed physician who has experience treating HIV and AIDS!