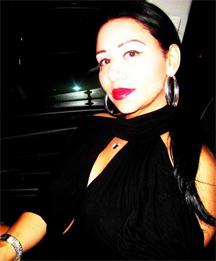 Maria Mejia tested positive for HIV in 1991, when she was just turning 18.
"I was enrolled in the Job Corps, in Kentucky," Maria said. "They tested everybody in the program. I started getting slips from the clinic telling me to come in, but I felt perfectly healthy, so I kept throwing them away. What were they calling me for? When I finally went in, the doctor yelled at me for ignoring the messages. Then he sat me down and told me I had AIDS."
Maria's family was in Miami at the time, so she had to deal with the news alone.
"I went into shock," Maria said. "I saw my whole life passing in front of me. I thought I would never have kids, never get married. The Job Corps told me I could stay, but I just wanted to go home to die – because that's what people with AIDS did back then."
Two days later, Maria got a ticket to Miami.
"My Mom was very strong," Maria said. "She told me that she felt in her heart that I was not going to die from this. But she also told me never to tell anybody what I had." Maria went to a doctor who offered her the only medication available at the time: AZT. But to get it she had to sign a waiver saying that she understood it could damage her internal organs, and she refused. Maria and her family returned to Columbia, where she was born and raised. For the next several years, Maria tried to stay healthy by concentrating on good nutrition.
"In 2000 I wasn't feeling well," Maria said. "I came back to Miami and went to see a doctor. My T-cells were down to 39, and my viral load was 75,000. By that time, much better medications were available, and I started taking them. I've been taking meds ever since."
Maria also started volunteering. "I always read everything I could about HIV and AIDS, so they asked me to be a peer educator," Maria said. "I was still 'in hiding' about my HIV, but I would reveal myself in small groups. I became an activist, and did quite a bit of work with the Red Cross."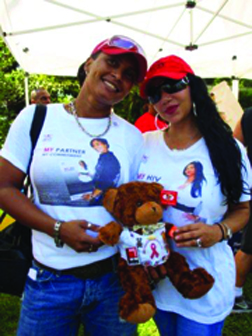 "I'm a happily married lesbian woman," Maria said. "This year, my wife's sister died from cancer. I thought, 'Why can someone say they have cancer, but not that they have AIDS?' So I decided to come out, and try to break down the stigma. I started blogging on The Well Project and The Body. I've been doing even more presentations. People freak out when they see me. I'm just not the picture of someone with AIDS that they have in their mind."
"I've started doing outreach to lesbian women," Maria said. "A lot of women who are lesbians don't come out as being HIV-positive. We know there is minimal risk of transmission from woman to woman, but there still is a risk. So I want to help lesbian women protect themselves."
"I feel much better now that I have come out to the world about my HIV status," Maria said. "I know my mother was trying to protect me by telling me to lie, but why should anyone be ashamed to have HIV? I have seen everything from babies to 80-year-old ladies with HIV. It can happen to anyone. It only takes one time of unprotected sex, and we are all sexual beings."
Copyright 2018, Positive Health Publications, Inc.
This magazine is intended to enhance your relationship with your doctor - not replace it! Medical treatments and products should always be discussed with a licensed physician who has experience treating HIV and AIDS!