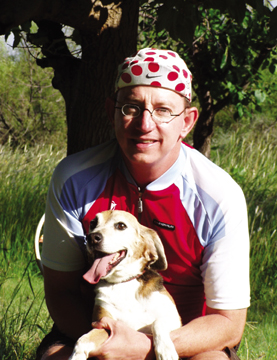 This is the story of a gay, HIV-positive man who spoke up-and made a big difference. Marc Slattery grew up in Texas and earned his degree in Economics from the University of Texas at Austin in 1991.

In 1989, he and a theatre friend opened Harvey Feinstein's "Safe Sex" in Austin, the first time anyone had ever done an AIDS-themed show in Texas. Texas is not exactly the most liberal state in the union, and Marc received three death threats before the show opened.

"Even counting the death threats and the pickets, we opened the 66-seat theatre at the Mexic-Arte Museum to more than a sold-out house," Marc remembers. "People were clamoring to be let in, and eventually we seated 142 people, some on the set itself. The show was a benefit for Project Transition in Austin, which was the first AIDS Hospice in Texas. We lit the first scene with candles. There were 30 pre-set candles on the set. However, by the time we were ready to open, there were 74 candles lit, some of them with names on them. It was a very touching and inspirational night in my life."

Marc's theatre company, Theatre EKLEKTOS, went on to be the largest independent company in Austin.

As time passed, Marc moved to San Francisco, where he became infected with HIV. A few years ago he was in a very serious car accident in Denver, and his parents came to get him, bringing him back to his roots in Midland, Texas.

Marc began teaching, including working as a once-a-week volunteer math teacher at a Texas Youth Commission high-security facility in Pyote, Texas.

"Several months after I began, I started hearing and seeing things that concerned me, including drug use, sex for favors, and even physical abuse to the point of at least one youth being sent to the hospital after a guard almost choked him to death," Marc says. He reported his concerns to a security staffer and to the superintendent in charge of the facility, but nothing happened.

Then, in February, 2006, as Marc was leaving the correctional facility, he caught a glimpse through the blinds of a conference room window that convinced him what he had heard was true. There were five young men inside with a facility administrator, and they were starting to undress.

The next day Marc called the Texas Rangers, and Sgt. Brian Burzynski went to the facility to investigate. His investigation alleges that assistant superintendent Ray Bookins and principal John Paul Hernandez used their power over release dates to extort sex from countless young men. This year, the two men were indicted on 23 counts, ranging from sexual assault to improper relationships with students. Furthermore, the Texas legislature enacted a reform bill designed to prevent this type of abuse in the future. All because Marc Slattery spoke up.

The Texas Youth Commission scandal has been all over the news in Texas, at some cost to Marc himself. He pled guilty to an assault charge years ago, and that made the headlines. But he knows he did the right thing.

"It hasn't been a rosy time being here," Marc says. "Most people would have run away, most people would have quit. But the whole State of Texas has changed forever because I spoke up. If I never do anything else with my life, it's been worthwhile."

Marc's advice to those newly diagnosed with HIV?

"There is hope. Everyone says you die from this; but the reality is, you don't. You can live a long and productive life with HIV if you get your head in the game. Listen to what your doctors have to say, even if you don't like it. Become educated about the disease as quickly as you can. Find yourself a support group or a supportive friend who also has the disease and get on with living with the disease instead of dying from it."

"You have to learn how to manage your HIV," Marc says. "Stay on your meds! Don't take a drug holiday. As long as you stay on your meds you're giving your body a fighting chance."

"Continue to live. Find something you like to do. I love to travel. For the past two-and-a-half years when I've had the money I've visited someplace new."

"Stay positive," Marc continues. "You don't have to give up your career, don't have to give up your friends. You have to get out of your own way and let positive things happen in your life. I try to accentuate the positive and let the bad just go away. You may have to change some of the things you were doing that made you HIV-positive in the first place. I quit drinking, because it was taking away from the good things that could be happening in my life. It was hard, because my body was used to it. But I did it, and you can too."

"It helps to have a spirituality and an understanding that there is someone out there bigger than this disease. I reconnected to God-you have to reach out to Him."

"You are still loved and worthy of love," Marc says. "Now you must find what burns deepest in you and go accomplish that."




Copyright 2018, Positive Health Publications, Inc.

This magazine is intended to enhance your relationship with your doctor - not replace it! Medical treatments and products should always be discussed with a licensed physician who has experience treating HIV and AIDS!