Editor's Note: If you are newly diagnosed with HIV, one of the most important things you can do is visit your nearest ASO (AIDS Service Organization).
What is an ASO? Although each one defines its mission a little differently, what they all have in common is that they help people with HIV connect with the information and resources they need. Depending on where you live, you may find they can hook you up with everything from primary health care and medications to housing, drug or alcohol abuse treatment, transportation, psychological counseling and legal representation. They have answers to questions you don't even know to ask. And they know of benefits you may be entitled to that you've never even heard of.
Because they play such an important role in the HIV healthcare system, we regularly spotlight really exceptional ASOs around the country. If you feel your ASO should be featured here, send an email to: amuse@phpubs.com and let me know why!
---

In 1999, when Maricopa and Pinal Counties in Arizona had a combined incident rate of 9.04 people with HIV per 100,000, it became evident that there needed to be a grassroots program to interface with the growing Latino population and provide services to Latinos with HIV. The LUCES (Latinos Unidos Contra El SIDA/Latinos United Against AIDS) program at the Centro De La Familia location in Phoenix, AZ was founded at that time to address the growing need and lack of culturally sensitive, street-based, targeted outreach. Initially, it was to be used as a marketing mechanism to promote HIV/AIDS services and provide linkages to primary medical care and social services. Over time, the program expanded to include client advocacy, behavioral health services, case management and even surveillance. As a peer-driven program, the main goals are to target, identify and provide HIV supportive services to any Latino who is recently diagnosed with HIV or not receiving primary medical care.
LUCES currently serves over 120 clients in Maricopa and Pinal Counties in Arizona. It has served more than 500 clients in total, so far.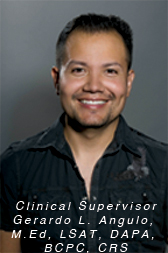 "We have a staff of eight," said Clinical Supervisor Gerardo L. Angulo. "We like to think of ourselves as a 'one-stop-shop.' We have our Program Director, Maclovia Morales, two case managers, an Outreach Specialist, a mental health Clinician, a medical case manager who is a Registered Nurse, and a Case Aide who assists the medical case manager with eligibility screenings, follow-ups and so on. However, it's not just about getting our clients enrolled in health care, the Aids Drug Assistance Program (ADAP) and helping them obtain a food box. There are often other issues that impede their ability to stay healthy, and we address those issues as well. For example, we have a mental health group that meets on Wednesdays for two hours. We recently did a substance abuse retreat for our clients. During this retreat, they had an opportunity to discuss the impact that drugs and alcohol can have on an individual and their loved ones."
"A lot of our clients are men who have sex with men," Gerardo said. "A lot of them are not 'out.' The Latino culture and religion tend to keep gay men in the closet. A lot of our clients are married to women, but play on the side. There's a lot of fear that a man will be rejected by family and friends if he admits he is gay."
LUCES takes on the responsibility to educate the community about HIV and AIDS.
"Part of my job is to build a bridge with other social services agencies in the community," Gerardo said. "We work closely with the Maricopa County Health Department, and get a lot of referrals from them. We also go into the community and do presentations on the services we provide."
Hats off to LUCES (Latinos Unidos Contra El SIDA) for the good work you do!
---
Copyright 2018, Positive Health Publications, Inc.
This magazine is intended to enhance your relationship with your doctor - not replace it! Medical treatments and products should always be discussed with a licensed physician who has experience treating HIV and AIDS!