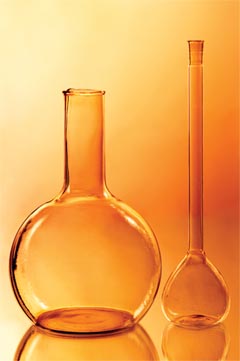 It has been a long, long time since the Food and Drug Administration (FDA) approved a new HIV medication! The last one was Intelence, approved three years ago.
But that long drought is (hopefully!) about to end. At least one drug in the research pipeline, Rilpivirine (TMC-278) could literally be approved any day.
Rilpivirine is a second generation non-nucleoside reverse transcriptase inhibitor (non-nuke or NNRTI) developed by Tibotec, a unit of Johnson & Johnson. A new drug application for Ripivirine was submitted to the FDA on July 23, 2010. The last new drug submitted to the FDA, Intelence, was approved approximately six months after it was submitted. So, if history is any guide, Rilpivirine could be approved any day.
Rilpivirine is in the same class of drugs as Sustiva, and will be a direct competitor for the older NNRTI. Studies show that Rilpivirine is at least as effective as Sustiva at fighting HIV. The advantage of the new drug is that it is significantly less likely to cause the neurological and psychiatric side-effects that plague some people who take Sustiva. It also appears to be more lipid-friendly than Sustiva, causing fewer increases in cholesterol and triglyceride levels.
Rilpivirine is a once-daily drug, and Tibotec has an agreement with Gilead Sciences to create a fixed dose, once-daily, all-in-one pill combining Rilpivirine with Gilead's Truvada (emtricitabine and tenofovir). This once-daily fixed dose tablet would compete with Atripla, currently the only once-daily, all-in-one pill on the market – and the most popular HIV drug in the world! Gilead filed for approval of this new all-in-one pill on November 23, 2010, so approval of a new all-in-one drug could come hot on the heels of the approval of Rilpivirine. Some experts predict that this new combination drug could actually be on pharmacy shelves as early as June, 2011.
There's another all-in-one drug just a little further down the pipeline. This will not be another "three-in-one" drug. Instead it will be a "four-in-one." Industry insiders commonly refer to this as-yet-unnamed investigational pill as "The Quad."
The Quad pill is a co-formulation from Gilead Sciences containing the experimental integrase inhibitor Elvitegravir, a new booster called Cobicistat (GS 9350), and Truvada (tenofovir/emtricitabine).
As reported recently at the 17th Conference on Retroviruses and Opportunistic Infections (CROI 2010), the Quad pill performed as well as Atripla in a head-to-head Phase 2 trial. Phase 3 trials - which are typically the last step before a drug is submitted to the FDA for approval - are underway right now.
One of the new drugs in the quad pill, Elvitegravir, is an HIV integrase inhibitor (same class of drugs as Isentress). Unlike other classes of antiretroviral agents, integrase inhibitors interfere with HIV replication by blocking the ability of the virus to integrate into the genetic material of human cells. Elvitegravir was licensed by Gilead from Japan Tobacco Inc. (JT) in March 2005. Under the terms of Gilead's agreement with JT, Gilead has exclusive rights to develop and commercialize Elvitegravir in all countries of the world, excluding Japan, where JT retains rights.
The other new drug in the quad pill, Cobicistat, is a "booster," similar to Norvir. It "boosts" other drugs - especially protease inhibitors - in your bloodstream, making them longer-lasting and more effective. If approved, it will be the first alternative to taking low-dose Norvir to "boost" other drugs. In addition to studying Cobicistat as part of the new quad pill, Gilead is also examining Cobicistat's potential stand-alone role as a direct competitor to Norvir.
Of course, there's no way to predict exactly when - or even if - any of these drugs will come to market. Ten or 15 years ago, it is likely that all of them would have been put on the fast track for expedited approval by the FDA. But that doesn't happen as much today. With so many good HIV medications already available, the FDA has become very picky. A new drug really has to prove itself to be considered for approval.
Still, industry experts are betting that the new three-in-one pill containing Rilpivirine will be available this summer. Experts also expect the new quad pill from Gilead to make it through the regulatory minefield eventually - but it may still be two years away.
Copyright 2018, Positive Health Publications, Inc.
This magazine is intended to enhance your relationship with your doctor - not replace it! Medical treatments and products should always be discussed with a licensed physician who has experience treating HIV and AIDS!