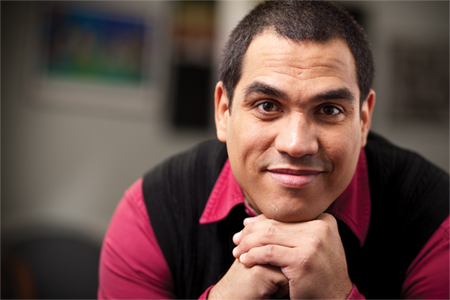 Jose Sostre got the news that he was HIV-positive as an unwelcome early Christmas present.
"I grew up in Puerto Rico," Jose says. "I came to New Jersey for my freshman year of high school, living with my aunt and uncle.
"On December 22nd, I was riding my bicycle home from school, and I was hit by a drunk driver. I flew all the way over the car that hit me, from the front to the back. In the hospital, they ran a battery of blood tests, including a test for HIV. I got the word that I was HIV-positive on December 24, 1992."
Jose's positive test led to the difficult admission that he was gay – something he had never shared with his family. As soon as he was well enough to travel, he returned to Puerto Rico, where he completed high school.
"There's still a lot of homophobia in Puerto Rico," Jose says. "My family didn't take the news very well. Some accepted me, but many would never even talk about it."
In 1997, Jose was accepted as a student at the University of Massachusetts in Lowell. However, he had to withdraw after two months when he was diagnosed with PCP Pneumonia. His CD4 was 142 and his viral load was 499,000. He had AIDS.
It was a low point in Jose's life. "I told the doctor I didn't want to take the drugs," Jose says. "I wanted to die. But I felt as if God said, 'You're not ready.' "
Jose was referred to the Lowell Community Health Center for HIV services, and in 1998 they offered him a job position. He has been working there ever since, primarily in peer support for the newly diagnosed, but also as a case manager and adherence counselor. He co-facilitates the LIFE (Learning Immune Function Enhancement) Program, a 16-week program that focuses on the relationship between the mind and body, and the psychological and social factors that affect physical health. In addition, Jose serves on a number of HIV advisory and consumer boards. In June, 2010, Jose was appointed a member representative for the Community Research Initiative of New England (CRINE) for the INSIGHT Program in Washington, DC. The INSIGHT Program (International Network for Strategic Initiatives in Global HIV Trials) is one of six HIV/AIDS clinical trials networks funded in 2006 by the National Institute of Allergy and Infectious Diseases.
We asked Jose what advice he would give to someone newly infected with HIV. "Get educated first," Jose said. "Then, get into treatment – don't wait until you're sick."
"Also, don't let yourself become isolated," Jose continued. "Talk to people. Reach out. Be part of the community."
"I work with Jose every day," said Denise Sanderson, Adherence Coordinator at the Lowell Community Health Center. "He serves as a reminder that people with HIV can lead happy and extremely productive lives. He works tirelessly to stay connected to his community and to empower others living with HIV or AIDS. In addition, despite all that life has thrown at him and the health challenges he's encountered, Jose has never lost his sense of humor."
---
Copyright 2018, Positive Health Publications, Inc.
This magazine is intended to enhance your relationship with your doctor - not replace it! Medical treatments and products should always be discussed with a licensed physician who has experience treating HIV and AIDS!