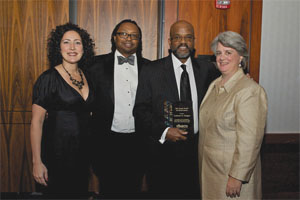 The Hyacinth AIDS Foundation hosted its 25th
Anniversary Gala in New Brunswick, NJ, on November 13, 2010. In this photo
are (from left to right): Hyacinth Trustee Mary Wachter; Hyacinth Trustee
Dr. Bryan Baugh; The Riki Jacobs Award for Social Justice recipient
Laurence E. Ganges; and Hyacinth Executive Director Kathy Ahearn-O'Brien.
---
Editor's Note: If you are newly diagnosed with HIV, one of the most important things you can do is visit your nearest ASO (AIDS Service Organization).
What is an ASO? Although each one defines its mission a little differently, what they all have in common is that they help people with HIV connect with the information and resources they need. Depending on where you live, you may find they can hook you up with everything from primary health care and medications to housing, drug or alcohol abuse treatment, transportation, psychological counseling and legal representation. They have answers to questions you don't even know to ask. And they know of benefits you may be entitled to that you've never even heard of.
Because they play such an important role in the HIV healthcare system, we regularly spotlight really exceptional ASOs around the country. If you feel your ASO should be featured here, send me an email at lporter@phpubs.com, and let me know why!
---
Like many other AIDS Service Organizations, Hyacinth AIDS Foundation got its start when a group of concerned citizens - headed by Marjorie Nichols, a clinical therapist in Highland Park – got together to do something for people who were getting sick and dying of this new and terrifying disease. They named their fledgling organization "Hyacinth," after a beautiful young man in Greek mythology who was the lover of the god Apollo. Hyacinth AIDS Foundation incorporated in 1985. It is the oldest and largest ASO in New Jersey.
"The agency struggled through its first few years," said Jerry McCathern, Hyacinth's Senior Director of Development. "The agency went through a series of executive directors. It had problems with management and funding. The turnaround came in 1993, when the agency hired Riki Jacobs as Executive Director. We refer to her as 'the person who saved the agency.' Riki got grants coming in, put the agency's finances in order, and Hyacinth AIDS Foundation really took off. Riki was a pioneer. She had previously worked in the corrections system, and she understood the needs of women with HIV – especially women of color."
Tragically, Riki Jacobs passed away two years ago of ALS. "She spent her life helping people with HIV, for which there is treatment," McCathern notes. "And then she died of a disease for which there is no treatment."
Riki Jacobs' legacy is a thriving agency with a budget of $5.5 million, a staff of 80, and service centers in six different NJ counties: Paterson, Jersey City, Newark, North Plainfield, New Brunswick, and Trenton. The agency also offers legal services to people with HIV across the state, regardless of location. Similarly, the agency offers services to those discharged from the prison system statewide – not just where they have service centers. Hyacinth's mission has three primary parts: Care, Prevention, and Public Policy.
"When the agency was first founded, we were helping people die," McCathern says. "Now we're helping them live by getting them tested, getting them into care, providing housing, offering addiction treatment, and connecting them to benefits they may be entitled to. We also have a unique mental health component called 'Wellness Community at Hyacinth.' We offer professionally-moderated support groups, as well as one-on-one counseling for those who need it. This is a critical part of our service, because many people - when they're first diagnosed - feel totally overwhelmed and powerless. Our 'Wellness Community' helps them accept their diagnosis and take a positive attitude moving forward."
"We also have a very strong prevention program," McCathern notes. "Our primary target is African American women and Latinas, who are hard-hit in our area, primarily through heterosexual transmission. We also target Men who have Sex with Men (MSM), who make up 39% of new infections in New Jersey – especially MSM of color. We have a testing and counseling van that travels all over our coverage area, offering test results in 20 minutes."
"In addition, we have a unique outreach program called 'One Conversation,'" McCathern says. "It's headed by a remarkable woman who has been living with HIV for a number of years, Delores Dockrey. She has been able to get her foot in the door of some of the largest and most powerful African American churches in the Newark area. She holds forums in which experts dispel the myths about HIV that exist in the Black community. Stigma is still a huge obstacle to prevention, treatment and care among African Americans, and she has made real progress against that."
"We are the only AIDS agency in New Jersey to have paid staff working on public policy," McCathern says. "Because Hyacinth is at the table, the 35,000 people living with HIV in New Jersey have a voice. As an example, our new governor recently took funding away from 1,000 people in New Jersey who were on the AIDS Drugs Assistance Program (ADAP). The next day we issued a press release with the title 'Governor Christie's Budget is Deadly for AIDS Patients.' Thanks to the hard work of our new Executive Director, Kathy Ahearn O'Brien and Axel Torres Marrero, our Senior Director of Public Policy, the administration worked with us to restore the drugs to the people who need them."
"As part of our public policy commitment, our public policy staff also train people with HIV from all over the state," McCathern says. "We teach them about HIV and about civics. We're raising up AIDS activists throughout the state of New Jersey. We think it makes people healthier when they feel empowered."
Congratulations to everyone at Hyacinth AIDS Foundation for all the good work you do!
Copyright 2018, Positive Health Publications, Inc.
This magazine is intended to enhance your relationship with your doctor - not replace it! Medical treatments and products should always be discussed with a licensed physician who has experience treating HIV and AIDS!