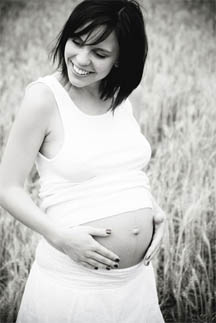 You're a young woman with HIV, and you want to have a baby.
What is the risk that your child will be born with HIV?
The straight answer: if you live in the United States, less than 2%.
It wasn't always that way. When a woman who is HIV-positive has a baby under normal circumstances, the chances that her child will be born with HIV is roughly 25%—one in four.
But, in 1996, a landmark study known as "ACTG 076" showed it was possible to improve those odds dramatically. In this test, women were given AZT—also known as Retrovir (zidovudine)—starting at 14 to 34 weeks of gestation, and then intravenously during labor. Their baby was then administered AZT for the first six weeks of life.
This procedure dropped the rate of transmission from mother to child to just 8.3%—roughly one in twelve, rather than one in four. A huge improvement!
Since then, it has only gotten better. Currently, there are fewer than 250 infants born each year in the United States with HIV, and in almost every case, it was the result of failure to follow established guidelines—often because the mother was non-compliant because of addiction to drugs.
Here are the procedures that have cut down the rate of mother-to-child transmission of HIV so dramatically: 1. Universal prenatal HIV counseling and testing.
In the United States today, expectant mothers are offered the opportunity to have an HIV test. Obviously, doctors can't do anything to keep your baby from being born with HIV if they don't know you have it yourself. So this is the universal first step.
2. Antiretroviral prophylaxis.
This is a fancy way of saying: treating the mother with combination HIV therapy. Studies show that mothers who are taking HIV medications and have an undetectable viral load have a very low risk of passing along HIV to their babies. So doctors will often recommend that expectant women start HIV therapy to protect their babies, even if they don't yet need it for their own health. The higher your viral load, the greater the chance that you will pass on HIV to your child. The lower your viral load, the lower the danger of transmission.
3. Scheduled Cesarean Delivery.
A C-Section can protect your baby from exposure to your genital tract virus during passage through the birth canal This is generally recommended for women who have a viral load greater than 1,000. Women who have viral loads below 1,000 have very low rates of infected babies, and a C-section doesn't seem to make any difference.
4. Avoidance of breast feeding.
A woman can give HIV to a baby who was born healthy through her breast milk. So, in the United States—where bottle-feeding is a safe and practical alternative—women with HIV (even those on HAART), are advised to avoid breastfeeding their children.
Is there anything else you can do to protect your child? Yes! Give up smoking, drinking and drugs—all of these can have a negative impact on your child. And take vitamins prescribed by your doctor that contain folic acid and calcium, which can reduce the rates of certain birth defects.
Of course, there is no absolute guarantee that you will have a healthy child—not for a woman with HIV or a woman who does not have the virus. But, if you follow your doctor's orders, the odds are good.
Copyright 2018, Positive Health Publications, Inc.
This magazine is intended to enhance your relationship with your doctor - not replace it! Medical treatments and products should always be discussed with a licensed physician who has experience treating HIV and AIDS!