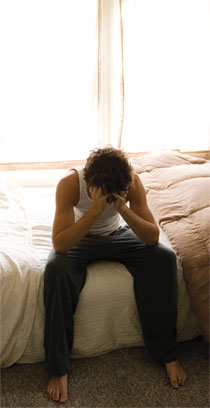 What is Hepatitis C?
Hepatitis C is a viral infection and major cause of chronic liver disease. It is commonly referred to as "Hep C" or "HCV." HCV is the most common blood-borne viral infection in the United States, affecting three to four million people. It is roughly three times more prevalent than HIV. It is the leading cause of liver transplantation in the United States.
Many people are infected with both HIV and HCV. Experts estimate that 30% of all people in the United States living with HIV are co-infected with HCV. If you were infected by HIV as a result of injecting drugs, then the chances that you also have HCV are as high as 90%. Hepatitis C is a disease that usually develops very slowly. Unfortunately, HCV multiplies more rapidly in people with HIV, and it causes liver damage more quickly in people with HIV than it does in people who are HIV-negative.
How is Hepatitis C transmitted?
HCV is a blood-borne disease, and you get it when your blood touches the blood of someone who has the virus.
The most common way HCV is spread is through intravenous drug use. Sharing drug paraphernalia like needles, syringes, cookers, cottons, and water put you at high risk.
Needles used for tattooing, body piercing and acupuncture can also spread HCV, but only if established safety precautions are ignored. The risk of getting HCV in a reputable tattoo parlor is extremely low.
Some health-care workers get HCV as the result of an accidental "needle stick."
Many people in the past have contracted HCV through blood transfusions. However, a test has been in place since 1992 to make sure donated blood is safe. Your chances of getting HCV through a blood transfusion today are less than one in two million transferred units of blood.
HCV can also be transmitted through sex, although it is relatively rare. Among monogamous straight people, the chance of transmission through sex is very, very low – even when one partner has HCV and the other does not. Recently, however, there have been outbreaks of HCV among men who have sex with men (MSM) who never have injected drugs.
How do you protect yourself from Hepatitis C?
l. Don't use injected drugs. If you must use injected drugs, never share your equipment.
2. Practice safer sex. Latex or polyurethane condoms provide a good barrier to the transmission of both HCV and HIV.
Please note: you need to protect yourself even if you already have HCV! There are different strains of HCV, and some are harder to treat than others. Also, if you have had HCV that was successfully treated, you can be re-infected. Don't let it happen!
What are the symptoms of Hepatitis C?
Many people with HCV don't have any symptoms at all, especially when they are first infected.
For those who do have symptoms, they may include:
Pain in the upper right quadrant of the abdomen
Nausea, aversion to certain foods, loss of appetite, or unexpected weight loss
Jaundice
Fatigue
Depression
Flu-like symptoms: fever, chills, aches and pains, headaches
Because co-infection with HIV and HCV is so common, people with HIV should be routinely screened for HCV. However, if you experience any of these symptoms – especially if you are an injected drug user – be sure to let your doctor know.
How is Hepatitis C treated?
Just as the treatment for HIV has improved in recent years, so has the treatment for HCV.
Until 1989, HCV was treated with injection of interferon. Interferon is a synthetic version of a cytokine (chemical messenger) produced by white blood cells. Treating HCV with interferon didn't work very well.
Treatment outcomes improved tremendously in 1998, when interferon was combined with ribavirin. HCV treatment improved again in 2001, when the Food and Drug Administration (FDA) approved "pegylated" interferon. Attaching the polyethylene glycol (PEG) molecule to interferon kept the drug in the bloodstream longer and made it more effective against HCV. Furthermore, treatment with pegylated interferon only requires one injection a week.
In people who are infected with both HIV and HCV, pegylated interferon treatment usually lasts 48 weeks. The goal is sustained virological response (SVR), which means you have no detectable Hepatitis C virus in your bloodstream six months after therapy ends. Unlike HIV, HCV does not become part of the host cell's DNA, so it is possible to clear it from the body completely.
There is on-going research aimed at developing new treatments for HCV. But, right now, pegylated interferon with ribavirin is the "gold standard."
For more information… There is lots of good information about Hepatitis C available on-line. Good sites include www.hcvadvocate.org and www.hivandhepatitis.com
Copyright 2018, Positive Health Publications, Inc.
This magazine is intended to enhance your relationship with your doctor - not replace it! Medical treatments and products should always be discussed with a licensed physician who has experience treating HIV and AIDS!