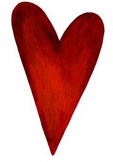 Taking care of your heart has been a priority that health care providers of all types have been pounding home to people for ages. The importance of a healthy heart really shouldn't be a secret to anybody.

Here's the good news:

Taking care of your heart is especially important if you are HIV positive.

Why is that good news? Because medications and treatments have come so far over the years that you can live as close to a normal life with HIV as ever imagined and keeping healthy in general is essential to living a long and active life!

People living with HIV are aging and that alone is a risk factor for heart problems. In addition, the American Heart Association lists these factors that put people with HIV at a greater risk of potential heart disease than those who are not HIV positive:
Many people with HIV have lower levels of HDL Cholesterol (good cholesterol).
People with HIV often have elevated Triglyceride levels, which can lead to artery problems.
People living with HIV often have chronic inflammation of the arteries and veins. This could be due to the virus itself or various therapies. Inflamed arteries trap more plaque and also make your body send T-cells (which can be reduced in people with HIV) to reduce the inflammation.
Studies show 60%-70% of people living with HIV are smokers, compared to 20% who are HIV negative.
All of the factors above increase your risk of atherosclerosis (a build-up of plaque in the artery walls).
The HIV virus and some therapies can negatively affect the kidneys. The kidneys help stabilize blood pressure, filter fluids and are vital to your cardio health.
If you have diabetes you are at a greater risk of heart disease and stroke.
So with all of the above factors in mind, where should you start to either keep your heart healthy or start getting it back to health?
The first place to go is to your HIV specialist. Your doctor knows you, knows about your disease and knows any other health risks you may have. The doctor can run tests that will check your heart function, kidney function, cholesterol and triglyceride levels and check for any artery problems. It's also important to find out if you are healthy enough for exercise and what type of exercise might suit you best.
When you get the test results, you and your health care provider will discuss what should be the next steps and determine a plan of action and goals for you.
The main thing here is to ask questions and tell your doctor what is on your mind. For example, if you smoke, you will need to stop. If you've tried several times before and never been able to quit, let him know. There are plenty of products, therapies and medications that he might suggest you try. Another example is if you are healthy enough, exercise will be recommended. If you've been opposed to even the thought of exercise your whole life, it's probably something you're either not going to do, or not stick with. Tell him this too. There are diets that he can recommend that can work on your cholesterol and medications that will reduce your cholesterol level. In several states, these medications for smoking cessation and cholesterol are covered under the AIDS Drug Assistance Program (ADAP).
Another good place to go is to your local AIDS Service Organization. Many of the full-service ASOs have nutritionists or might offer seminars or support groups involving diet, exercise and quitting smoking.
If you've had recent tests already done, know where you stand and want to get going, here are a few ideas and places to start:
Quit smoking!
This is the single most important thing you can do for your heart. If you don't smoke, you're a step ahead. If you do smoke, some ideas on quitting can be found at www.smokefree.gov.
Exercise.
First: Start slow. Second: Make it something you like to do. Third: Get a friend to do it with you. You can start by going for short walks in the park with a friend and talking instead of texting.
Eat right.
Watch what you eat and also how much. Portion control is very important and sometimes overlooked. Check out www.mayoclinic.com/health/heart-healthy-diet/NU00196 for some good ideas.
These three things are a good start to getting your heart healthy and prepared to carry you through an active and long life.
Copyright 2018, Positive Health Publications, Inc.
This magazine is intended to enhance your relationship with your doctor - not replace it! Medical treatments and products should always be discussed with a licensed physician who has experience treating HIV and AIDS!