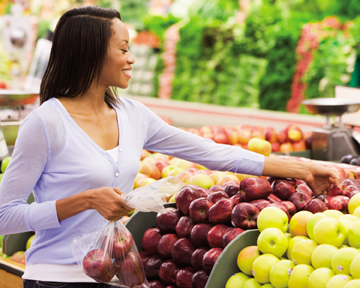 by Alan Lee, RD, CDE, CDN, CFT
The economy may not be doing well, but you can still eat well on a tight budget! Here are some tips on how to stretch your food dollar.
Make a grocery list before you go shopping, to make sure you stick to your spending plan and have the ingredients you need.
Clip coupons from newspaper ads and supermarket circulars, and use them when there's a special on items you were going to buy anyway. Keep a price book, and make a record of food price ranges so you know when a sale item is really a bargain. Check out www.mambosprouts.com for additional healthy food coupons.
If you have a Trader Joe's neighborhood grocery store near you, go there! Trader Joe's (www.traderjoes.com) is one of the best places to eat well on the cheap. Local Hispanic or Asian supermarkets also may offer better prices than conventional supermarkets, especially on produce and staples like grains and rice.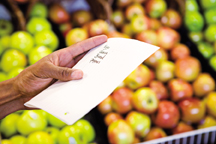 Don't go shopping when you are tired, hungry or emotionally upset. These are times when you might wind up spending more money on foods that are unhealthy (high in fat or sugar) or that you will be tired of in a very short time.
Stop buying bottled drinks-they are a major expense! You can make your own iced teas at home from teabags. If you're concerned about your local tap water, filter it with a Púr or Brita water filtration system-or boil your water for free!
Buy store brands. They are comparable in quality to name brands, and usually cost much less. Even with a coupon, brand name products can cost more.
Beware of the "end caps." Items on end-of-aisle displays are not always on sale. Grocery stores usually stock less expensive items on the lower or upper shelves-they put the expensive stuff at eye-level.
Buy frozen vegetables in bags rather than boxes. Bags are usually less expensive.
Frozen fish costs less than fresh fish. Just be sure to buy plain frozen fish-not breaded fish, which is higher in fat.
Cabbage is usually less expensive than lettuce.
If you buy something new that you don't like, you can usually return it to the store. Or call the Customer Service Hotline printed on the package to get a coupon for a free replacement.
Drink your coffee latte at home instead of at an expensive coffee shop, and save hundreds of dollars a year.
If you have the storage space, buy non-perishables in bulk when they go on sale. Non-perishables include canned goods, whole-grain pasta, brown rice, and jars of spaghetti sauce. You will ultimately use cans of tuna fish (packed in water or olive oil), so go ahead and buy 10 or more if they go on sale for a good price. Be aware of expiration dates so you don't accidentally overstock an item that the supermarket is trying to sell off due to a rapidly approaching expiration date. If you buy groceries at "99 cent" or "dollar stores," buy only limited quantities. Dollar stores tend to sell foods that are very close to their expiration date.
Protein foods are usually the most costly items on your grocery list, so plan some meals without meat. (Go to www.meatlessmonday.com for ideas). Eggs are a terrific source of cheap protein. Try making egg white omelets with frozen veggies for dinner. Also consider skim or 1% low-fat milk, sardines, non-fat dry milk, large containers of plain yogurt, tofu and soy protein products, and nut butters. Beans are also an excellent source of fiber and protein.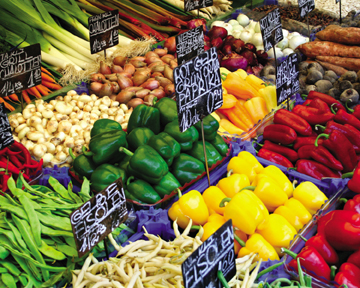 When planning meals, keep the food guidance system in mind - www.foodpyramid.com/mypyramid is a good place to start. Then get yourself to a HIV-savvy registered dietitian to customize a plan with you.
Save money and time by cooking a big batch of a favorite dish (for example, a hearty tomato-based stew with vegetables, chicken and barley) that yields eight or more servings. Eat one serving the day you make it, a few more during the week, and freeze the rest. It helps to put a date on your frozen batches so you can eat them within a reasonable time.
Finally, take some comfort in knowing that we spend less on food than the citizens of any other nation on this planet. Don't be hard on yourself if you have to watch your spending on food. The economy is likely to turn around soon. When it does, you will have adopted more cost-effective eating habits that let you splurge on other pursuits that can lead you to a happy and satisfying life.
---
About the author: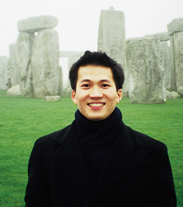 Alan Lee, RD, CDE, CDN, CFT, is the nutritionist at the Special Services Center at North General Hospital , in East Harlem, Greyston Health Services at the Maitri Adult Day Healthcare Program in Yonkers , NY . He also currently works as a consultant for the Asian & Pacific Islander Coalition on HIV/AIDS (APICHA) and TOUCH, Inc. located in Rockland County , NY . He also has a private practice with Astor Medical Group. He is currently the Chair-Elect for the Infectious Diseases Nutrition Dietetic Practice Group of the American Dietetic Association. He is a national speaker on nutrition and wellness and can be reached at (212) 229-2298 and AlanLeeRD@yahoo.com.
Copyright 2018, Positive Health Publications, Inc.
This magazine is intended to enhance your relationship with your doctor - not replace it! Medical treatments and products should always be discussed with a licensed physician who has experience treating HIV and AIDS!