It would be a shame to let this day pass without comment.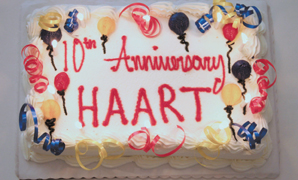 Roughly ten years ago, a diagnosis of HIV infection changed – almost overnight – from a death sentence to a chronic disease that people could live with indefinitely. What made the difference? The development of HAART – Highly Active Anti-Retroviral Therapy. Scientists discovered that, although no one drug was successful in keeping HIV under control, a combination of three drugs could do it. Often called the "three-drug cocktail," HAART is still the standard therapy for HIV.

The exact date of the anniversary is controversial. Some say HAART began with the FDA approval of the first protease inhibitor, saquinavir, on December 6, 1995. Trials of the new drug were done in combination with both one and two of the nucleoside analogue drugs which were already available.

Some credit the origins of HAART to trials of two other early protease inhibitors, Norvir (ritonavir) and Crixivan (indinavir), both of which were approved by the FDA in the Spring of 1996.

Still others date the origins of HAART to an historic international AIDS conference held in Vancouver in June, 1996. Says Norbert Bischofberger, PhD, head of research at Gilead Sciences, "At the Vancouver AIDS meeting it became apparent that triple therapy was the way to go and that AIDS could be a chronic, treatable disease."

Whatever the exact date, the results were immediate, and dramatic.

George Hanna, MD, Anti-viral Global Project Head for Abbott Laboratories, describes the difference HAART made: "When you look around at hospitals that take care of people with HIV, you see a marked difference. I was in residency before 1996, and there were wards dedicated to HIV, full of people who were desperately sick and dying of AIDS. There were hospices dedicated to helping people with AIDS die with dignity. Within just a couple of years these dedicated wards disappeared. The hospices went out of business. All of a sudden HIV became a disease that could be managed on an out-patient basis as opposed to something that killed people – at least in the developed world."

Though HAART was a life-saving breakthrough, it was far from perfect. Says Joel Gallant, MD, MPH, Associate Director of Johns Hopkins AIDS Services, "In the beginning, it was so exciting to be able to keep people alive that we ignored the burden. The side-effects of Norvir at full-dose were horrendous. Crixivan was more tolerable, but the dosing was so complex: every eight hours on an empty stomach, with eight glasses of water a day, in combination with at least two other drugs. If you were doing everything right you were typically on five different doses a day with varying food restrictions. At first, people were just happy to be alive. But they got tired of it."

So scientists went to work to make HAART less of a burden.

Gary Thal, MD, Director of Medical Affairs, Virology for Bristol-Myers Squibb says, "The trend in recent years has been to find drugs that have something to offer that previous drugs didn't have: reduced pill burden, reduced frequency of dosing, improvements in tolerability, reduction of side-effects and so on. Patients today have options that patients five years ago – let alone ten years ago – could only have dreamed about."

One breakthrough was the approval of Kaletra (lopinavir/ritonavir) in September, 2000. Kaletra has since become the best-selling protease inhibitor worldwide.

"Kaletra was the fist protease inhibitor developed with a booster to yield levels in the blood that were orders of magnitude higher than what was available before," says Dr. Hanna. "In a study against Viracept (nelfinavir) – the standard of care at the time - we were able to show that Kaletra's efficacy and resistance were considerably superior."

Kaletra has proved to be a remarkably durable drug. "We're about to present seven year data to follow up on our study 720," says Dr. Hanna. "We're followed patients who were treatment-naďve for seven years, and more than 95% who are still in the study have an undetectable viral load. There's no evolution of drug resistance in any of the patients. It's the longest-running prospective study of any HIV drug, by far."

In October of this year, a new Kaletra tablet was approved by the FDA which reduces the pill count from six-a-day to four-a-day. The new Kaletra tablet doesn't have to be refrigerated, and it can be taken with or without food. Also, the new tablet is approved for once-a-day dosing for patients who are new to HIV therapy. "We don't have enough data for once-a-day dosing for experienced HIV patients," says Dr. Hanna. "We're still looking into that."

Another valuable addition to the HIV drug arsenal is Reyataz, a protease inhibitor that was approved by the FDA in 2003. Reyataz has the most convenient dosing of any of the protease inhibitors: just two capsules, taken with food once-a-day. In addition, Reyataz doesn't seem to have the negative effects on cholesterol and triglyceride levels that other protease inhibitors have.

The sheer numbers of drugs that people with HIV have to take has come down from the early days of HAART – way down! In the early days, people took as many as 30 pills a day. Combination pills have helped to ease the pill burden dramatically. Pills that combine two or more of the three medicines required for a "three-drug cocktail" now include Truvada (emtricitabine/tenofovir), Combivir (lamivudine/zidovudine), Epzicom (lamivudine/abacavir) and Trizivir (zidovudine/lamivudine/abacavir).

Another pill that has dramatically reduced the pill burden for people with HIV is Sustiva (efavirenz), which was approved by the FDA seven years ago and has become hugely popular. Sustiva is now available in a 600 mg. tablet which reduces the dose to one pill, once-a-day. Right now, one of the most convenient and popular complete HAART regimens is the combination of Sustiva with Truvada. Truvada combines Viread (tenofovir) and Emtriva (emtricitabine) into one pill, so the combination of Sustiva and Truvada is a complete, three-drug HAART regimen requiring only two pills, once-a-day.

And those two pills are about to become one. Bristol-Myers Squibb (makers of Sustiva) and Gilead Sciences (makers of Truvada) are working together to combine the two pills into a single tablet that will only need to be taken once a day. "We have already developed two prototypes for the combination of Sustiva and Truvada," says Dr. Bischofberger of Gilead. "But in those two studies the levels of Sustiva were too low. We have three more formulas in human trials. If one shows bioequivalency, we could file for FDA approval by the middle of 2006, and possibly have approval by the third quarter of '06."

What's next? Virtually all the experts we talked to predict continued development of more and better HIV drugs.

"Integrase inhibitors are the next target," says Dr. Bischofberger. "We have a compound in early trials that we're very excited about. In the next five years we'll have better drugs – better tolerated, long-term."

Dr. Thal agrees. "In the near term, we're going to see continued improvements in convenience – new formulations with fewer pills, simpler dosing. The bar has been set very high in terms of safety and efficacy. New drugs will only make it if they offer something better, durable efficacy without complications. Hopefully we'll see a decrease in infections, and expanded access of patients around the world to good therapy. Hopefully we'll see a day when we can say the pandemic is coming under control."
---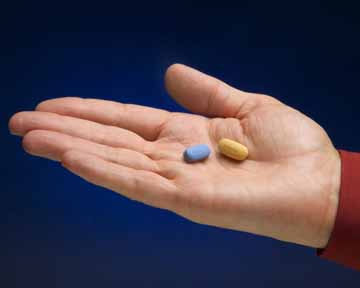 Here's how far HIV therapy has come.
In the early days of HAART, people took as many as 30 pills a day, and often the pills had to be taken in five separate doses – some with food, and some without. Today one of the most popular regimens consists of just two pills, taken once-a-day without regard to food. The two pills are Sustiva and Truvada . Truvada is a combination pill which combines Emtriva (emtricitabine) and Viread (tenofovir).
Very soon, these two pills will be combined into one, and it will be possible for people newly diagnosed with HIV to control the virus effectively by taking just one pill, once-a-day. Ten years ago, nobody dared to dream that this day would ever come!
Copyright 2018, Positive Health Publications, Inc.
This magazine is intended to enhance your relationship with your doctor - not replace it! Medical treatments and products should always be discussed with a licensed physician who has experience treating HIV and AIDS!