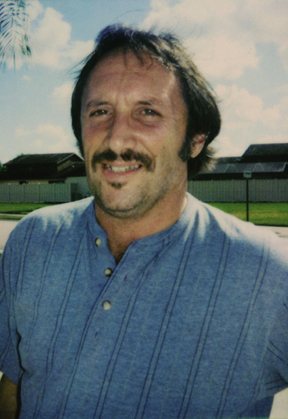 In the early 1980s, I was heavily into intravenous drug use. By May, 1986, it was so bad that I was given two weeks to live by my cousin, a medical doctor. Miraculously, I cleaned up, flooring everybody. After six years of sobriety I worked my way up to a job in the music industry-my total childhood dream! I was high as a kite.

A family doctor, who knew I had shared a needle three times (yes, only three times), said I was at risk for HIV and should take a test. I told him he was nuts. Break something that's not broken? Not a chance!

A few months later he hounded me again. This time I capitulated, knowing it would come back negative. And it did!

But two weeks later, I got a phone call. It was an interruption and I responded, rudely, by saying, "What's your story?"

The mind-boggling response: "This is the Health Department, and we regret to inform you we made a mistake on your test. You're positive!"

So there I was, HIV-positive, living the super life with six years sober. The good news is that I didn't relapse. I've seen over 330 beautiful people die after relapsing with drugs or alcohol-yes, I've kept count-and I'm determined not to be one of them.

Approximately two years later, in the winter of 1994/1995, I was running a fever, and my doctor had me take a chest X-ray. I vividly remember that hellish picture of my lungs. It was two huge blotches. That was advanced AIDS PCP double pneumonia staring at me.

I was immediately admitted to the hospital and put on a respirator, where I remained for 3 1/2 months. After that, I spent three months in a nursing home. I have a memory (though vague) of taking a breath to talk, but nothing coming out. I also have a hazy memory of seeing people die around me. But I was determined to survive: if addiction didn't kill me eight years earlier, I wasn't letting something stupid like this do it.

I couldn't talk for 9 1/2 months in total, and I couldn't walk for 8 1/2 months. I had to have 24-hour home health aid when I left the nursing home, and a physical therapist to help me re-learn to walk. AIDS had made me a mess, but I had the fire to keep chugging along.

Twelve years ago, my T-cells were sitting at 74. Today, thanks to our awesome medications-I take Kaletra and Truvada-they hover around 1,000. Fantastic!

The PCP pneumonia I survived left me very emotional. I've cried almost daily since that event, usually when sharing my story at recovery meetings. I used to cry when I heard Freddie Mercury on the radio, that genius rock 'n roller who died of AIDS.

But a friend asked me, "Why are you crying, Gary? You survived! It wasn't your time. Go help a few thousand addicts recover."

The biggest blessing I'm enjoying today is seriously pursuing a music career with my own band. I'm a strong songwriter with awesome lyrics from years of spiritual experiences, both hellish and spectacularly loving. Who knows? The sky is the limit!

Thanks immensely for letting me share my true story with everyone. I hope it gives others the inspiration to survive-and thrive!-in spite of the challenges they face.





Copyright 2018, Positive Health Publications, Inc.

This magazine is intended to enhance your relationship with your doctor - not replace it! Medical treatments and products should always be discussed with a licensed physician who has experience treating HIV and AIDS!