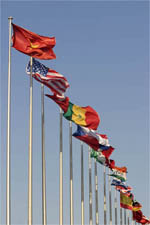 According to Merriam-Webster, "stigma" means: "A mark of shame or discredit."

There is no stigma attached to most diseases. It is not considered "a mark of shame or discredit" to be affected by cancer or heart disease.

But there is a stigma associated with HIV and AIDS. To lesser or greater degrees, prejudice and negative attitudes are directed toward people with HIV or AIDS all over the world. This stigma has devastating consequences, often making people fearful or reluctant to get tested for HIV or get treatment for it.

United Nations Secretary-General Ban Ki-Moon said, "Stigma remains the single most important barrier to public action. It is a main reason why too many people are afraid to see a doctor to determine whether they have the disease, or to seek treatment if so. It helps make AIDS the silent killer, because people fear the social disgrace of speaking about it, or taking easily available precautions. Stigma is the chief reason why the AIDS epidemic continues to devastate societies around the world."

Here's a heart-breaking example. In Botswana, treatment to prevent the transmission of HIV from mother-to-baby during childbirth is free. But more than half of the pregnant women who go to birth clinics in that country refuse to take the test, and nearly half of those who test positive refuse to accept the treatment. So the stigma surrounding HIV results in children being born with HIV when it could have been prevented.

The stigma associated with HIV doesn't only exist in Africa—it is in the United States, too. And in many cases, the stigma is perpetuated by the government. Consider that the United States had an official policy (that only ended this year) of denying entry to people with HIV. A Peace Corps volunteer serving the Ukraine was summarily dismissed when he tested positive for HIV in 2008. A decorated Special Forces veteran working for a security company called Triple Canopy was let go because the company's contract with the State Department barred it from hiring people with HIV. A young man who applied for a position with a small-town police department was rejected because in the medical exam he disclosed that he was HIV positive. The American Civil Liberties Union is litigating these three cases right now.

In the United States, effective treatment for HIV has been available for well over a decade, and most people with the disease are able to work and function as well as anyone else. HIV cannot be spread by casual contact. So why does the stigma persist, and why is it so strong?

• In part, because HIV is transmitted by sexual activity and drug use, which leads some people to believe that it is the result of a "moral fault"—or even the wrath of God.

• In part, because it works hand in glove with other forms of discrimination—especially homophobia and racism.

• In part, because of pure ignorance. Many people do not understand how HIV is transmitted or know that it can be treated, causing them to have irrational fears of their own personal risk.

What can we do about it?

Some change is being brought about through the legal process. People with HIV are protected from discrimination on the job by the Americans with Disabilities Act, and organizations like the ACLU who do a great job of trying to end discrimination through litigation.

Some change can also be brought about through education. AIDS Service Organizations across the United States are working hard to teach people the basic facts about HIV and how it is spread.

And some change can be brought about by speaking out. Most people in the United States are still very quiet about their status—they're very careful who they let know about their status. But those who remain in silence are buying in to the stigma. Those who speak out are helping to bring it down.

According to Ban Ki-moon, "We can fight stigma. Enlightened laws and policies are key. But it begins with openness, the courage to speak out. Schools should teach respect and understanding. Religious leaders should preach tolerance. The media should condemn prejudice and use its influence to advance social change, from securing legal protections to ensuring access to health care."




Copyright 2018, Positive Health Publications, Inc.

This magazine is intended to enhance your relationship with your doctor - not replace it! Medical treatments and products should always be discussed with a licensed physician who has experience treating HIV and AIDS!