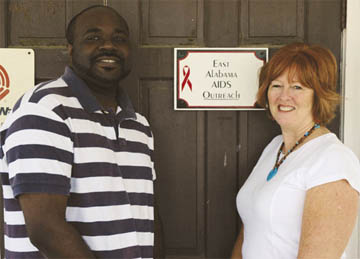 AIDS Outreach of East Alabama Medical Center began as a grassroots effort by several nurses and social workers in 1988, when the first case of AIDS was diagnosed at the hospital. In the beginning, it had a hotline operating out of a volunteer's home. In 1997, when the agency was nine years old, Marilyn Swyers came aboard as the first full-time staff member. Today, 20 years after the agency began, it has a staff of ten and has served over 451 patients. Current caseload is 151.
But it isn't easy providing HIV services in rural Alabama.
"We're located in one of the fastest-growing counties in the state, but we still don't have an HIV clinic," Marilyn says. "There are still barriers to accepting the idea that we even have HIV in our community. We collaborate with an HIV clinic in Montgomery, AL, which is 60 miles from here. They come here three times a month. We also go to Montgomery on Tuesdays. A new patient often doesn't get to see a doctor for six or eight weeks, because we don't have enough HIV clinicians in this area."
"Our patients are mostly from communities of color," Marilyn notes. "One of our counties is Macon County, which was home to the infamous Tuskegee Syphilis Project. So, understandably, we still have a lot of people who distrust anything to do with public health. The population we serve is extremely rural, with a high rate of poverty-72% of our patients are not insured. There's no public transportation here-if you don't have a vehicle, the only way to get to the doctor is us."
AIDS Outreach of EAMC also struggles with the inequality of distribution of AIDS funds.
"Some states are getting $12,000 per patient," Marilyn says. "We're only getting $1,200. They call us 'Little Africa.' I have no problem with investing in AIDS care in Africa, but we should be taking care of our own as well."
It's also difficult to raise money locally, simply because the local communities are impoverished.
"This year we had a Kentucky Derby party at a horse farm owned by one of our board members," Marilyn says. "All the local high-end restaurants donated food, we had champagne, mint juleps and a local band. We netted $5,000, which we considered a great success. But a sister agency in Huntsville raised $110,000 the same weekend."
In spite of the obstacles they face, AIDS Outreach of EAMC provides the local HIV community with supportive services, testing, education and counseling, and a unique housing campus for people with HIV that now has four buildings. The agency has three social workers, and an outreach case manager who goes into seven different counties to reach individuals at risk.
Hats off to AIDS Outreach of EAMC for the good work they do in difficult circumstances!
Copyright 2018, Positive Health Publications, Inc.
This magazine is intended to enhance your relationship with your doctor - not replace it! Medical treatments and products should always be discussed with a licensed physician who has experience treating HIV and AIDS!