It's not easy to find that "someone special." Add HIV to the equation, and it's even more complicated.

So what's the most practical, effective way to meet someone these days? You know the answer, of course: on the Internet. Wait to bump into that perfect person in the produce aisle of the local grocery store, and you'll be waiting forever. Go on-line, and you'll find thousands of lonely people just like you who have decided to stop waiting-and take action.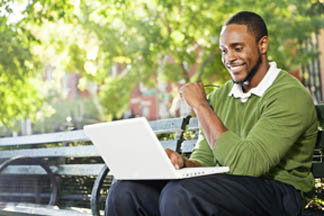 If you're new to dating with HIV, you may be more comfortable starting your on-line search with people who are also HIV-positive. They know what you're going through, and they understand the disease. Since this is such a popular way to go, you'll find tons of dating sites and personal ads on-line for positive people. Some well-established sites include:
There are many others-just Google "HIV Dating," and you'll find plenty. You may also find an HIV-positive date at a support group, HIV conference, or a singles event sponsored by one of the major ASOs.
But other people with HIV are not your only option. There are plenty of happy couples out there consisting of one partner who is HIV-positive, and one who is not. Want to play the wider field of those who are and are not positive? You may find a date at:
Again, that's not a complete list. Google "dating sites" and you'll find plenty of them, including those that specialize in subcategories such as Christian singles, mature singles and so on.
Most of the sites listed above cater to both heterosexuals and gays. If you'd prefer a site that serves the LGBT community exclusively, again, there are plenty of choices, including:
Whichever route you choose to go, here are some tips that may make the experience more successful-and safer.
Post a photo. If you don't, you'll never get any response. (You'll find you won't respond to profiles without a photo, either.)

Don't Photoshop your picture to make yourself look better, or use one from five years ago when you weighed thirty pounds less. Choose a flattering picture, of course, but make sure it is current and accurate. Don't advertise goods you can't deliver! Your photo should be a good, clear, head-and-shoulders close-up, so people can see what you really look like.

Be specific in your profile. Do you like music and having fun? So does everybody! Say what kind of music you like-name your favorite recording artists. And say what "fun" means to you. If it's searching your city for the best imported Belgian beers, say so!



Keep things moving. Respond to messages promptly-within a day or two, at the most. Move from e-mail to a phone conversation quickly. You'll get a much better idea of what someone is really like talking to them on the phone.



Protect your privacy. There are stalkers, con artists and thieves on-line, as well as sincere people like yourself looking for love. Keep your address, place of employment and other personal information private until you've gone out on a date or two. Never, ever, give your Social Security number, banking information or PIN to anyone on-line for any reason whatsoever!



Plan to have your first meeting in public. (Remember the Craigslist killer?) And keep it brief. Meet­ing for a coffee is ideal. The first "date" is just to see if there's a spark, and you'll know in five minutes. If the chemistry is there, you can plan a longer, more intimate date for next time.



Don't take rejection personally. You're going to reject a few, and some are going to reject you. It's all part of the game. On-line dating can be very frustrating. But your special someone is out there somewhere, and the odds are a lot better that you'll find him or her on-line than anywhere else. So keep smiling, keep a positive attitude, and keep trying!



Lastly-make sure you reveal your HIV status before you have sex. If you do not, you may expose your partner to HIV, which is morally wrong, and illegal in the majority of states. Even if you have safe sex, and your partner is not infected, it is illegal in many states and countries to have sex without disclosing your status. This is no joke-people are in prison for this.
They say "there's someone for everyone." The Internet makes it easier to find that special someone than it ever has been before.
Copyright 2018, Positive Health Publications, Inc.
This magazine is intended to enhance your relationship with your doctor - not replace it! Medical treatments and products should always be discussed with a licensed physician who has experience treating HIV and AIDS!