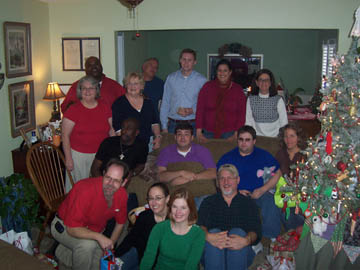 Staff and volunteers of Birmingham AIDS Outreach, Inc. Executive
Director Karen Musgrove is second from the right on the top row.
Birmingham AIDS Outreach was started in 1984 by a group of concerned citizens who decided that something needed to be done to respond to the AIDS epidemic. The agency incorporated in 1985, and it is the oldest ASO in Alabama.
"Early on, a group of people came from Montgomery to see what we were doing, and they started their own ASO there," says Karen Musgrove, Executive Director of Birmingham AIDS Outreach. "Now there are ten ASOs in Alabama. Every other month, the Executive Directors get together to update one another on what they are doing. I think we are the only state that does this. Alabama is a large state with diverse geography and a very diverse population. Coordinating our efforts helps us serve all the people of the state."
"In 1990, the City of Birmingham gave us the building we're still in today," Karen says. "We still consider ourselves a Community Based Organization - our donors come from the local community, our directors come from the community, and we're supported by the community."
Birmingham AIDS Outreach has a professional staff of 12, including two case managers and an assistant who deals only in transportation. They are supported by many loyal volunteers who dedicate their time to answer phones and run the front office, as well as work on special projects.
The agency provides a wide array of services to people living with HIV. "We offer food boxes, nutritional supplements, and transportation to medical and psychological/social appointments," Karen says. "We pay for eyeglasses, hearing aids, walkers, medication and co-pays. We offer referrals to housing and other social services agencies in the community."
"We provide personal care items like toilet paper and soap quarterly, and we have a clothing closet and household goods closet," Karen says. "Everything is free-of-charge."
The agency has a licensed therapist on staff to provide individual, family and partner counseling, as well as an attorney who is available on Tuesdays and Thursdays. There are also both general and women's support groups, and an in-house prevention group for men who have sex with men called "Brother to Brother."
"We have more than 2,000 registered clients," Karen says. "About 750 are currently active. Most of our clients are from Birmingham, but we don't turn anyone away."
An Innovative Fund Raiser
Each year, Birmingham AIDS Outreach puts on an innovative fundraiser around Valentine's Day called "Valentine Dine." This year it will be held on February 10.
The event consists of a series of small dinner parties held in private homes all over Birmingham, followed by a Dessert and Champagne Party and Celebrity Plate Auction at 9 pm in the DoubleTree Hotel.
"The plates are hand-painted by well-known local artists and national and international celebrities," Karen says. "We usually auction off about 50 plates, but this year we have 90. I don't know what we're going to do with them all!"
Celebrities who have contributed plates this year include Madonna, Bono, Barry Manilow, Sally Struthers, Leann Rimes, Jim Bullock, Courteney Cox and David Arquette, Ty Herndon and many, many more.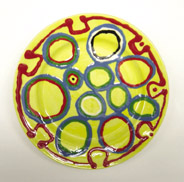 A plate designed by Ty Herndon
One of the most unique designs is by well-known Birmingham artist Frank Fleming, who sculpted a pile of pears that sit on his plate. "Last year a similar plate by Frank sold for $7,500," Karen says. "This year his plate will probably go for $8,000."
Another well-known local artist, Kim Graham-Smith, has contributed a plate featuring her character "Porcupine Coyote." "The 'Porcupine Coyote' plate will probably go for $800 to $1,000," Karen says.
Last year's Valentine Dine raised around $70,000 for the agency, with $20,000 coming from the auction of the plates. "With Madonna and Bono contributing plates this year, I don't know what will happen," Karen says.
More information about the agency is available on-line at birminghamaidsoutreach.org.
Copyright 2018, Positive Health Publications, Inc.
This magazine is intended to enhance your relationship with your doctor - not replace it! Medical treatments and products should always be discussed with a licensed physician who has experience treating HIV and AIDS!