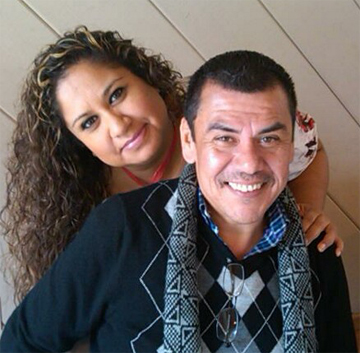 Arnaldo Cordero lost his mother on June 17, 2004. Less than two months later, he tested positive for HIV, and thought he was going to die, too.
"I didn't know what to do. I was so scared," Arnaldo said. "I told my family about my diagnosis, and they all rejected me for having a 'gay disease.' Homosexuality is still not accepted in the Latino community. I was alone in the world, I felt dirty, I was angry, I was in denial."
Arnaldo decided to get some information about HIV –and also to do something about his alcoholism.
"I went to a doctor right away, and got a case manager. They told me about a nearby coffee house where there were regular Alcoholics Anonymous (AA) meetings. At one of the meetings, I heard a man named Mark Davis share his story. I wanted to have the peace that he had. We had a lot in common. I asked him to be my sponsor, and he asked me if I was willing to go to any lengths to get sober. I said I was, and he agreed to sponsor me. Mark passed away in 2006, but he will live in my heart forever. And now I am an AA sponsor myself."
The AA program not only helped Arnaldo get sober, it also helped him find a way to embrace his HIV.
"HIV is with me until the end of my life," Arnaldo said. "So I made a deal with my HIV. I said to my HIV, 'Dear HIV, you are with me, and I'm sure you don't want me to die, because if I died you would die with me. So why don't you allow me to love you, and I know you will love me too, you will stay in my blood and my body and we will both live together for a long time."
Arnaldo began volunteering at two San Diego AIDS Service Organizations, Pacto Latino and Christie's Place.
"There was really something special about Christie's Place," Arnaldo said. "It's full of love. After volunteering there for six months, they offered me a part-time job, then a full-time job."
Arnaldo's advocacy work has taken him to Sacramento for a meeting with then-governor Arnold Schwarzenegger and to Washington, DC, where he met former president Bill Clinton. Arnaldo is currently working as a supervisor for a well-known grocery chain, but he never stops trying to tear down the stigma that surrounds HIV.
"If you have cancer or any other illness, you can stand up and talk about it," Arnaldo said. "But when it comes to HIV, we can't stand up and talk about it, and if we do, we get funny looks. I've had it happen to me, when friends see me coming out of the pharmacy. They ask me, 'Are you sick, Arnaldo?' And I look them right in the eye and say, 'I feel fine, I just came to pick up my HIV medications.' Sometimes they ask, 'Oh my God, are you OK? You're not going to die, are you?' I just look at them and say, 'I don't plan to die today, but I don't know God's plans.' And I smile."
It frustrates Arnaldo that the grocery store where he works is constantly collecting donations for the Muscular Dystrophy Association, for breast cancer and for prostate cancer – but never for anything related to HIV or AIDS. "I've asked several managers about it. They told me that the corporation doesn't want anyone to know I am HIV-positive because I will be touching their food. It made me sad. But I'm working for change. I visualize them one day contributing to HIV like they do the other diseases."
"I was rejected by my biological family, but I've found a new family in my friends, my colleagues, and in the HIV and AA communities," Arnaldo said. "My goal is to give strength and hope to people newly diagnosed with HIV, and let them know it's not a death sentence."
"I'm proud to stand up and say, 'I am an HIV-positive gay man and a grateful recovering alcoholic."
Copyright 2015, Positive Health Publications, Inc.
This magazine is intended to enhance your relationship with your doctor - not replace it! Medical treatments and products should always be discussed with a licensed physician who has experience treating HIV and AIDS!