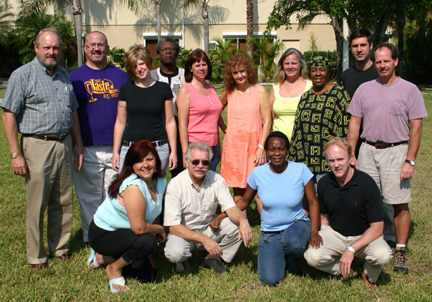 AIDS Help, Inc. in Key West, Florida, was founded in 1986.
"At that time, people were dying very quickly," says Deputy Director Joseph Pais. "There was no recourse for maintaining dignity or hope. A group of concerned citizens got together on a friend's back porch and started AIDS Help, Inc. For the first few years the organization operated out of a shoebox."
The agency has come a long way since then! Today AIDS Help, Inc. provides case-managed health care, housing, food, counseling, referral and support services for HIV-infected residents of The Florida Keys, from Key West to Key Largo. It also conducts health education and HIV risk reduction outreach programs aimed at reducing the impact of HIV infection throughout Monroe County.
One of the keys to the agency's success is the involvement of the local community.
"We have one of the most active fund-raising committees in the country," says Executive Director Robert Walker. "Approximately 20% of our budget is raised through local events. These locally-raised funds allow AIDS Help, Inc. to qualify for $2 million of state and federal funds for direct client services." Annual fund-raising events include the Taste of Key West, the Vintner's Dinner and the campaigns for King and Queen of Fantasy Fest. Deputy Director Pais jokes that the agency staff has a second job: having fun at fund-raising events. "We attend up to 85 events a year," he says.
In addition, the agency enjoys the support of more than 175 committed volunteers. "If our volunteers charged us minimum wage for every hour of volunteer work last year, it would come to $50,854.96," Walker says. "Our volunteers are an amazing resource."
All of this support allows AIDS Help, Inc. to provide comprehensive services to 330 clients throughout the Keys. The agency strongly believes in the case management system. "We have evidence that it works," says Pais. "We have seven case managers who provide a single point of entry to our clients. Somebody trying to survive on their own with HIV has a very, very hard time."
Being located in Key West poses some special challenges to the agency. One of them is housing. "An efficiency apartment rents for $1,500 in Key West," Pais said. "So housing is a special issue here. We own four residential facilities with a total of 37 units. And we're in the process of building seven new units because the rental situation has become so absurd here in the Keys."
Another concern is the public perception that the agency is some kind of travel service for HIVers across the country who want to enjoy some fun in the sun.
"Of course, that's not our purpose at all," Walker says. "We provide services to residents of Monroe County. But it has made us very shy about national publicity. The truth is, in the early years this agency operated in secret because we were in a hostile environment. But since I came here, I've been determined to change that. We are a legitimate health care organization and we have no reason to hide. I want us to be at every street fair, every parade, every community event. It's time to strip away the stigma."
Deputy Director Pais agrees: "We never forget that our clients are also our neighbors and friends."
Copyright 2018, Positive Health Publications, Inc.
This magazine is intended to enhance your relationship with your doctor - not replace it! Medical treatments and products should always be discussed with a licensed physician who has experience treating HIV and AIDS!