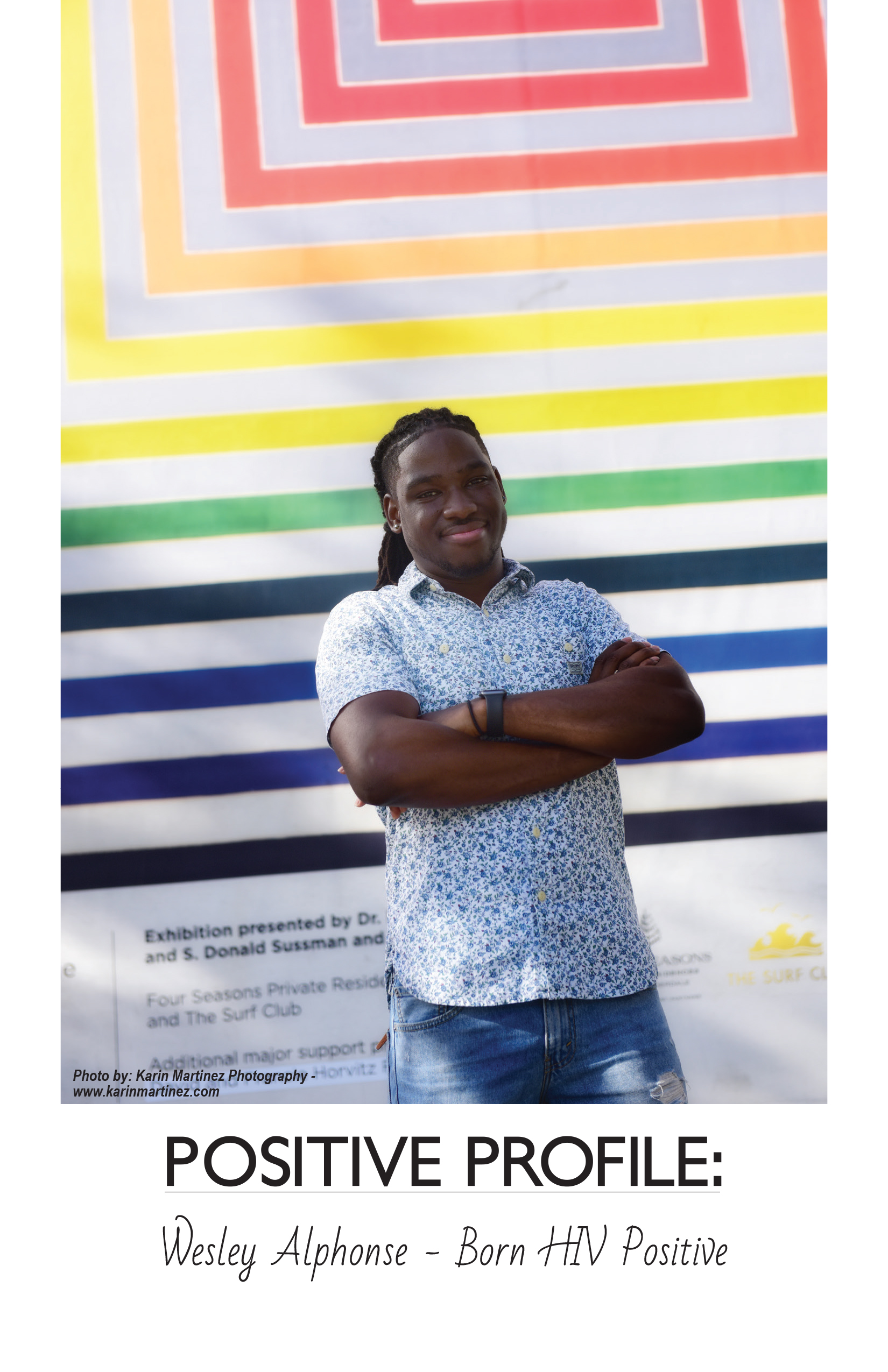 Wesley Alphonse has been HIV-positive since birth.
Now, at 26-years-old, as you might imagine, he's responsible and aware beyond his years. Wesley said, "I don't remember a time when I didn't know I was HIV-positive. My family was supportive and they didn't hide it. But back in the 90's when you're told that you're not supposed to live past five, that's not something you look forward to hearing."
Wesley's parents both passed away when he was five so his aunt took him and his two brothers, who are not HIV-positive, in to live with her. He was also very fortunate to have the same HIV specialist, Dr. Anna Puga, as his physician from birth.
If you've been living with HIV long-term, you know that back in the 1990's treatments and regimens were changing rapidly and new and improved meds and methods were being tested frequently. Wesley said, "As a child I felt like a guinea pig because in the 90's there were so many new medications coming out - one would be better than another. I'd be taking multiple pills and I was the only one in my family who had to do that. I felt by myself but it also made me grow up and be responsible, fast."
As he got older, middle school age, he also felt the sting of stigma and ignorance. He said, "I was disclosed to people in middle school and I got some of the, 'don't drink from here, you can't come in here.' There was a time when I went to a friend's house to play video games and his little brother wouldn't let me sit on his bed. His parent came to my house to apologize later. That was nice but I never wanted anybody to pity me or treat me any differently. I disclosed my status to people to potentially protect them.
"My family was supportive but it was hard because they weren't living it. I never brought it home. I never expressed emotions. If my family found out anything that happened to me it was basically through third parties. I wouldn't want to re-live those experiences but I'm glad for the experiences because they gave me a tough skin."
Wesley was able to attend Camp Hope, a camp for HIV-positive children located in Texas, that he found to be incredibly helpful and eye-opening because he met several kids that were just like him and they had so much in common.
As he's gotten older yet, the stigma is still around, just in other areas. He says, "The dating scene is tough. I've met someone before I tell them I'm HIV-positive then I tell them later and that can backfire. I've also been upfront and still ended up with the same result. I've now adopted the 'I don't care' kind of emotion - if you stay, you stay. If you don't, you don't."
Aside from his doctor who has been by his side since birth, an organization that has helped him out is CAN Community Health that specializes in HIV treatment. He said, "CAN has helped me tremendously. They're kind of like a one stop shop for everything I need. It's easy to get my meds and it's easy to see a doctor. "
His advice for people who are newly diagnosed with HIV is very similar to most of the other Positive Profiles that we've had over the years, He says, "Don't bottle it up. Don't take it as a negative. Find or create a support team with medical staff or friends. HIV has helped me in certain ways. I wouldn't be the person I am today without it. I wouldn't have the patience to deal with things as I do and wouldn't have met the people that I've met."
Today and in the future, Wesley is looking forward to a long life. "When I was young, it was always like, 'Is it going to be this year? Is it going to be next year?' I don't feel that way anymore. I like socializing and opening peoples eyes to HIV and educating them."
Wesley is currently finishing his Bachelors Degree at Florida International University and plans to get his Masters Degree with his goal to be an agent with the U.S. Drug Enforcement Administration.
For More Information:
CAN Community Health has been serving the needs of the HIV community in Florida and now the southern part of the country with 28-clinics, since 1991. They are a private, not-for-profit organization dedicated to the treatment, care and continual wellness of people living with HIV, hepatitis C, STDs and other diseases. Their clinics offer medical, dental, psychological and lifestyle counseling to all patients, regardless of their financial situation, insurance status, or ability to pay. Services vary by location. They provide HIV specialty care by board-certified Infectious Disease trained physicians. CAN has also become a part of the LGBT community offering education, assistance and support to other local organizations. Please visit their website at www.cancommunityhealth.org.
Camp Hope was established in 1996 and was the first camp for HIV-positive children in Texas. Camp Hope provides HIV-positive kids ages seven to 16 from low income households the opportunity to develop important life skills needed to manage a life with HIV in a healthy and secure environment. For one week campers learn the importance medical adherence, how to manage disclosure of their status in relationships and with their peers and how to deal with stigma - but most importantly, the campers experience a week of fun, barrier-free activities and quality time with their friends. For more information visit their website at www.aidshelp.org.
Copyright 2018, Positive Health Publications, Inc.
This magazine is intended to enhance your relationship with your doctor - not replace it! Medical treatments and products should always be discussed with a licensed physician who has experience treating HIV and AIDS!