Editor's Note: If you are newly diagnosed with HIV, one of the most important things you can do is visit your nearest ASO (AIDS Service Organization).
What is an ASO? Although each one defines its mission a little differently, what they all have in common is that they help people with HIV connect with the information and resources they need. Depending on where you live, you may find they can hook you up with everything from primary health care and medications to housing, drug or alcohol abuse treatment, transportation, psychological counseling and legal representation. They have answers to questions you don't even know to ask. And they know of benefits you may be entitled to that you've never even heard of.
Because they play such an important role in the HIV healthcare system, we regularly feature articles to spotlight really exceptional ASOs around the country. If you feel your ASO should be featured in HIV Positive! magazine, please send an email to: amuse@phpubs.com and let me know why!
---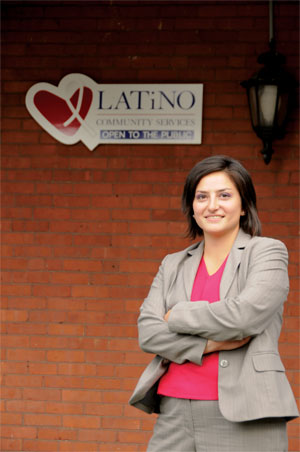 "The original name of our agency was 'Latinos Contra SIDA,'" said Yvette Bello, Executive Director of Latino Community Services in Hartford, CT. "The agency was incorporated in 1986 with much the same mission it has today: to reduce the spread of HIV in the Latino community and to improve health outcomes for Latinos infected by the virus."

"Since then, we've updated our mission to include other populations affected by HIV, but Latinos are still our primary focus," Yvette said. "Virtually all our staff members are bi-lingual in English and Spanish and our by-laws require that at least 50% of our Board of Directors must be of Latino descent."

The agency changed its name in 2005 from "Latinos Contra SIDA" to "Latino Community Services," keeping the same acronym: LCS. In that same year, the agency adopted its current logo and took steps to greatly expand its prevention and care programs.

"We solicited our first federal grant in 2005, and it was awarded in 2006," Yvette said. "Today we have five federal grants and four state grants. Local funding and philanthropy make up the rest of our annual budget of approximately $2 million."

"We have very robust prevention programs. We target injection drug users with programs designed to reduce harm. We also do condom distribution and demonstrations, and have programs on condom negotiation."

"When we looked at our population at risk in the Greater Hartford area, we found that a tremendous number of people with HIV in our area are over 50 years old. Unfortunately, many HIV providers don't discuss either safe sex or substance abuse with their older clients. So we started a program focusing on Latino males over 50, called "Healthy Men, Healthy Lives." A unique facet of the program is that we use a characteristic of this population that is usually portrayed in a negative light - "machismo" - as a tool to encourage condom use. They respond very well to the idea that they are the protector in the relationship, so condom use is their responsibility."

"On the care side of the equation, we offer full medical case management services," Yvette said. "We have a medication adherence nurse on-site who helps clients manage their medications to reduce negative side effects. We also have an on-site food pantry paid for by philanthropic funds. Our food pantry is stocked with culturally appropriate foods, including rice and beans, which are staples in the Latino diet. We also stock Ensure and other dietary supplements for those who need them."

"We try to remove all the barriers that stand in the way of our clients getting the medical care they need. One such barrier is transportation. We provide shuttles to and from medical appointments for approximately 350 clients a year."

"Language can also be a barrier to our client population," Yvette said. "If we invest resources to have transportation, a nurse, and a doctor for our clients, we want that interaction between the client and the doctor to be a successful one. Our trained interpreters ultimately enable that client to understand their provider and be better able to manage their treatment. This is the reason why we have interpreters with training specific to health care settings."

One of the barriers to prevention and care in the Latino community is the strong stigma that still surrounds HIV. Latino Community Services is actively trying to combat this stigma by reaching out to the most trusted institution in the Latino community - the church.

"We have a faith based program that is six years old, called 'Healthy Families and Communities,'" Yvette said. "We convene pastors from around the state - and sometimes even outside Connecticut - in areas where the rate of HIV infection is high. We try to plant the seed of directing a part of their ministry to HIV and substance abuse prevention. Unfortunately, there is a lot of hesitation to tackle HIV and substance abuse issues. There's hate around it, and fear around it. Many pastors who take this step are challenged by their own congregations, and by their counterparts in other churches. Despite this, we have worked with more than 50 churches so far. We give them an option, even if it is only to make a referral to us. And we let them know they're not alone."

"There's a whole lot of work yet to do," Yvette said. "A whole lot. Some of the clergy in Latino areas hardest hit by HIV are still tip-toeing around the subject, but we're doing everything we can to break down the walls."

Hats off to Yvette Bello and all the staff at Latino Community Services for all they do! For more information, check out their excellent web site at lcs-ct.org




Copyright 2018, Positive Health Publications, Inc.

This magazine is intended to enhance your relationship with your doctor - not replace it! Medical treatments and products should always be discussed with a licensed physician who has experience treating HIV and AIDS!