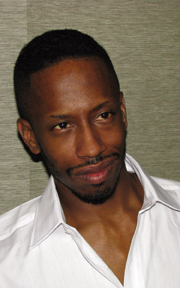 Justin Smith was diagnosed with HIV in 2005.
"I had flu-like symptoms," Justin says. "I woke up one night with the sheets soaked with sweat, then went straight to the toilet and threw up five times. I couldn't figure out what was wrong, since it wasn't flu season. I'd been through a bad break-up and started partying and acting irresponsible. Finally, I decided to get an HIV test. I was 26 years old. I really didn't think I'd turn up positive."
Justin went to a clinic and took the 20-minute OraSure test.
"While I was waiting for the results, I went outside and smoked about 100 cigarettes," Justin says. "I called my best friend Brian and told him what I was doing, and he said he'd come by for moral support. Then the lady came out and said, 'Well, Justin, I have your results. Can you come back with me?' When she told me I tested positive, I literally fell apart in her office."
After serving in the Air Force from 1999 to 2003, Justin had worked for an HIV and AIDS non-profit, so he knew something about the virus. But it still hit him hard. "When I was 18, I dated a guy who had HIV, and he was very open and honest about it. I was cool about HIV. But when I got it, I wasn't cool about it."
"When you combine depression, loneliness, alcohol and drugs, your inhibitions are going to be down, and you're going to make a mistake. That's what I did. I don't blame myself, and I don't blame anybody else. It just happened."
Eventually, Justin pulled himself together and went on with his life. Six months after his diagnosis, he met his current partner, and they are still together today.
In 2008, Justin went on-line to see if he could find any African-American gay men documenting their life with HIV.
"There was very little," Justin says. "So I decided to create an on-line journal myself." The result was his own website at www.justinbsmith.com and a youtube journal at www.youtube.com/jsmithco98.
"I decided to create the journal because there needs to be something on-line for the younger generation," Justin said. "The younger generation is on-line all the time. I got an e-mail from a 19-year-old boy who said he had just tested positive. He told me he was contemplating suicide. This was just after my first video posted on youtube, and I was like, 'Please tell me this isn't a suicide note!' But he went on to say, 'Because of you I decided not to kill myself, because I know I'm not alone in my struggle.' Every time I think about quitting, I think about that 19-year-old boy."
Justins's advice for those who are newly diagnosed with HIV?
"You're going to cry," Justin says. "It's perfectly normal. Get it all out now."
"You need to find a doctor or clinic where you can get your T-cells and your viral load counted. Make sure you monitor them regularly until you go on meds. Stop drinking and stop doing drugs, because you're going to need your strength. It's especially important to stop taking crystal meth, because it brings down your immune system, and you can't afford that."
"It's going to be OK," Justin continues. "This is not the end of your life, it's the beginning. You can live with it. Your life can be very full, if you take care of yourself."
Copyright 2018, Positive Health Publications, Inc.
This magazine is intended to enhance your relationship with your doctor - not replace it! Medical treatments and products should always be discussed with a licensed physician who has experience treating HIV and AIDS!