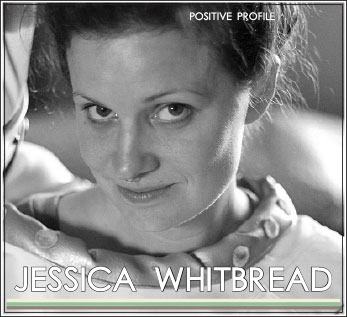 In Jessica Whitbread's bio, she describes herself as "A queer woman living with HIV." She was diagnosed with HIV in 2002. She is an artist and activist interested in the feminist movement, and that's really the extent that she wanted to talk about herself.
What Jessica really wanted us to write about in her Positive Profile were some of the organizations and projects that she's involved with. In doing that, we really are telling you a lot about Jessica and her hope is that people who are HIV positive will join these organizations and take part in their activities to help with their psychological therapy and mental well being.
While some of her ongoing projects of community art and activism include No Pants No Problem, Tea Time and PosterVIRUS (all of which can be seen by following this link http://jessicawhitbread.com/projects/) Jessica really wanted to talk about her involvement with the International Community of Women Living With HIV and the Love Positive Women project.
International Community of Women Living With HIV
Jessica is the youngest woman to be elected Global Chair of The International Community of Women Living with HIV (ICW). The ICW is the only global network by and for women living with HIV. Their membership is 15,000 located in 120-countries. The ICW exists to lead efforts towards securing and improving the quality of life for women living with HIV by mobilizing, organizing, advocating, mentoring and raising consciousness on the issues that directly impact lives.
Jessica said, "Many women in the U.S. and Canada don't know that HIV is an issue. We are rich countries and not everybody has access to that wealth and privilege. Women in other countries fall through the cracks , they can't mobilize in the same way and can't access the same services.
"Other regions like South Africa are very different than the U.S. and Canada and we have grassroots projects there. We take regional issues and bring them to a global level of awareness."
She continued, "ICW is also involved in high level policy at the World Health Organization (WHO) and within the UN body being a permanent member of the International AIDS Conference."
If you would like more information about ICW and membership please visit http://www.iamicw.org/
Love Positive Women
Love Positive Women is an ongoing project established by Jessica in 2013. It's an international series of grassroots events that uses Valentines Day as a backdrop, creating a platform for individuals and communities to engage in public and private acts of love and caring for women living with HIV - like making Valentines Day cards .
Working from a place of strength, Love Positive Women focuses on the idea of interconnectedness, relationship building, loving oneself and loving ones community. Jessica said, "Why not do something nice for the women most forgotten about? Taking the time to do something for someone else is really beneficial to society as a whole. Don't underestimate the value in something as simple as sending a valentine to a stranger."
She continued, "Working within the movement, sometimes there's not that much joy. This is a way to enjoy life. It' a way to bring positivity and joy to people and into the work. It reminds people they are still loved."
For more information about Love Positive Women, please follow this link http://jessicawhitbread.com/project/love-positive-women/ and if you are a woman living with HIV, you can sign up to receive a valentine next year by sending your name and mailing address to: lovepositivewomen@gmail.com.
Jessica says that she believes it's important to develop your own personal understanding, and that can take years.
She said, "People like to put others in 'boxes' and if you don't fit in the box, there's no place for you. Like, there's no place for a woman that enjoys sex and isn't a sex worker. Everybody has different parts to themselves. A woman that is self-identified with HIV should be able to create space for their own understanding and experiences."
Her advice for people that are newly diagnosed is to have people around you for support. "I have what I call my 'street team,' they are a group of people that can carve a path for me. My sister is one of the team. They make it so you can walk into a room and feel good." She continued, "The more love you can build around you, it creates a positive force field. But, love has to come from within as well. It can be hard to keep away from the negativity and stigma but try to keep focus on the strength around you."
Jessica said, "I remember a taxi driver saying to me, 'There's a cure for AIDS' and I said, 'Well, yeah there is...it's kindness.' If people were more kind and loving, they'd understand more."
Copyright 2018, Positive Health Publications, Inc.
This magazine is intended to enhance your relationship with your doctor - not replace it! Medical treatments and products should always be discussed with a licensed physician who has experience treating HIV and AIDS!