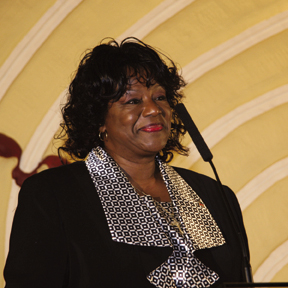 We first featured Ida Byther-Smith in this magazine as our "Positive Profile" in September, 2001. Infected by her husband, who died of AIDS in 1999, she went more than a decade without telling anyone she was infected, or doing anything to protect her health.

"I wouldn't even breathe the word 'AIDS,'" Ida said. "I was afraid I would lose my job if anyone found out I had HIV."

Ida's long years of living in secrecy came to an abrupt end in December, 2000, when she got double pneumonia and spent 18 days in the hospital. She came as close to dying as anyone we've ever written about in this magazine. At one point, her T-cell count was zero, and they gave her drugs through an IV in her chest. "I couldn't stand up," Ida recalls. "I couldn't write my name."

But she came to see her time in the hospital as a turning point, because it forced her to face her HIV infection head-on. "I had 18 days of rebirth in the hospital," Ida says.

She made a remarkable recovery, in part because she is absolutely faithful about taking her medicines. "I don't miss meds," Ida says. "I'm the kind of person, if I make up my mind to take something, I take it 'till the end."

We ran a "Positive Update" on Ida in our June/July issue in 2003. At that time she had already begun volunteering to help others with HIV. "I feel like God spared me for a purpose," Ida said. "There are still a lot of ignorant people. Recently I went to a class, and I used the restroom. Another woman in the group wouldn't go in because I had been in there."

Ida has been busy since then-and part of her mission is still educating the ignorant, especially in church. "A lot of women in church and a lot of married women look down their nose at people with HIV," Ida says. "I'm a Christian myself, and when Christian people come to me with this garbage, it makes me want to slap somebody!"

Ida has a powerful new outlet to spread the truth about HIV: a radio show that airs every Sunday in Chicago from 3 to 4 pm, on FM 106.3. The name of the show is "Raw Talk."

"People call in and say, 'Don't you think HIV is a curse from God on homosexuals?' I say, 'No! My God hasn't cursed anybody.' They say, 'Don't you think you're going to die?' I tell them, 'Not until my time comes.' People ask me, 'How fast do you tell somebody you have HIV?' I say, 'Right after my name.' They say, 'Aren't you ashamed?' 'I don't have anything to be ashamed of. God took my pain and gave me a ministry.'"

Ida has also written two powerful books about HIV since the last time we talked to her. One is called, "A Woman's Story: Overcoming the Shame of HIV." She co-wrote that book with Annette Y. Fields and Angel D. Jones. She also wrote a novel called, "We're All Connected."

Even more importantly, in 2003, Ida opened Jo-Ray House, a not-for-profit home for men released from corrections with HIV.

"When I started Jo-Ray House, I didn't know what I was doing," Ida says. "But I knew there were people who needed help and weren't getting it. I had a friend-a really nice guy, who had served his country in the military-who committed suicide because he couldn't get services. I knew something had to be done."

Today, Jo-Ray House has expanded to two houses, even though funding is always a problem. "I went out on God's word, and I'm still standing on it," Ida says. "We always find a way."

"I didn't learn to live until I got AIDS," Ida says. "I really believe that God gave me this mission because I have a big mouth, and I'm not afraid."

You can learn more about Ida and the Jo-Ray House on-line at Jo-Ray House and Ida Smith.




Copyright 2018, Positive Health Publications, Inc.

This magazine is intended to enhance your relationship with your doctor - not replace it! Medical treatments and products should always be discussed with a licensed physician who has experience treating HIV and AIDS!