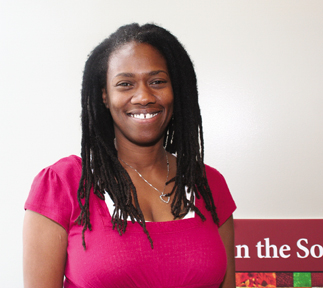 Gina Brown got the call to come in for the result of her HIV test on April Fool's Day, 1994.

"I was pregnant with my daughter," Gina recalls. "At that point I had been clean and sober for about two years. I tested negative when I went into drug and alcohol treatment. I thought if you were negative, you were negative for life. So when I was offered an HIV test during pregnancy, I said 'yes.' I wanted it on my medical record that I was HIV-negative."

In 1994, there were no effective treatments to keep HIV from progressing to AIDS. "The lady at the hospital wouldn't even look at me," Gina says. "She hid her face behind a sheet of paper and said, 'Miss Brown, you have AIDS and you're going to die.'"

"I was 28 years old, finally getting my life together," Gina says. "I thought I was the only woman in the world with HIV. I felt so isolated and alone. I told my mother and my two sisters. I didn't want my father or my brothers to know. I planned my funeral and got ready to die."

A year later she was still alive, and decided it was time to start living.

"I didn't want any other woman to ever go through what I did," Gina said. "Even on drugs you're not that isolated, because you're with your druggie friends. I wanted to be a voice for women with HIV."

Even though her positive test was a rude shock, it had a positive result-and Gina is a huge advocate for testing. "Because I tested positive, I was offered the chance to participate in a trial using AZT to prevent the transmission of HIV from mother to child," Gina says. "As a result, my daughter was born HIV-negative. She's 14 now, she's a joy and she's doing great. I also have a son who is 25."

When Gina was planning her funeral, one of the things she did was choose her pallbearers. The group included her brother and her children's father. Tragically, all six pallbearers are now dead. "They were all murdered in New Orleans," Gina said. "The first was killed in 1997, and the last in 2001."

Today, Gina is a Homeless Case Manager for the NO/AIDS Taskforce in New Orleans. She's been clean and sober for 16 years.

"I'm back in school for social work," Gina says. "I'm in a committed relationship with a man who is HIV-negative and totally accepts me."

Gina's work makes it clear to her how much ignorance still surrounds the subject of HIV.

"I speak to groups of women and ask how many of them think they're at risk for HIV," Gina says. "Nobody raises a hand. Then I ask how many of them have children, and they all raise their hands. I try to explain that if they have children, it's pretty obvious they had sex, at least once-without a condom. And that puts them at risk for HIV. We've got to educate and empower women. We've got to get them to understand that HIV can affect anybody. It's not caused by nasty sex or abnormal sex-just sex."

Gina's advice to someone newly infected with HIV?

"First, find a good doctor that you can be a partner with," Gina says. "Take ownership of your own care. Educate yourself. Find out all you can about the virus. You can't go by what your friend said or what was said in the past. Find a support group. You get a lot of help in a support group. Then, get involved. It's important that positive people have a voice at the table."

"We all start out thinking HIV is a death sentence," Gina says. "But it's a chronic disease now. If you do everything you and your doctor decide, you can be here for a long, long time."

"I don't think you ever get to the point where you're cheering, 'Whoo hooo! I've got AIDS!' But you do get to the point where you say, 'You know, I've got HIV, and it's OK with me.'"
---
The Southern AIDS Living Quilt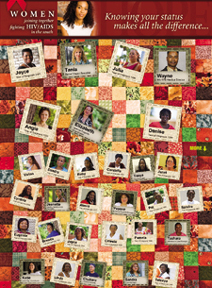 Gina Brown is one of more than 30 contributors to a website called The Southern AIDS Living Quilt, which illustrates the growing impact of HIV on women in the Southern United States, particularly women of color. The web address is: LivingQuilt.org
Using video testimonials,the Living Quilt shares the personal stories of women living with HIV, their families and healthcare providers throughout the region. The stories underscore the critical importance of making HIV screening a routine part of medical care in order to ensure earlier diagnosis and prevent the spread of the disease. The Living Quilt provides links to valuable resources and fact sheets about the epidemic, to empower those directly impacted to make informed healthcare decisions and to help others understand the power of knowing their HIV status.
The Living Quilt is designed to grow organically, with women throughout the South continuing to add their stories to a collective community that becomes more powerful with each new voice. The Living Quilt is a joint project of the Southern AIDS Coalition and Test for Life.
---
Copyright 2018, Positive Health Publications, Inc.
This magazine is intended to enhance your relationship with your doctor - not replace it! Medical treatments and products should always be discussed with a licensed physician who has experience treating HIV and AIDS!