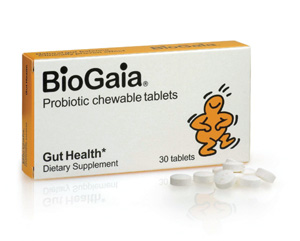 It's no secret that diarrhea is a condition that many people with HIV are uncomfortably familiar with. Now there's evidence that a probiotic developed by BioGaia, a Swedish company, may reduce the duration of diarrhea in people with HIV. BioGaia's probiotic strain is called Lactobacillus reuteri Protectis.
Eamonn Connolly, PhD, Senior Vice President for Research at BioGaia AG, Stockholm, says "L. reuteri was originally isolated from the breast milk of a nursing mother, so it is considered a natural component of human milk."  
According to the World Health Organization, a probiotic is a live microorganism which, when given in adequate amounts, confers a health benefit on the host. Many bacteria exist naturally in our environment, our food and in our bodies. But only a few have been shown to have probiotic, health-promoting properties.
"True probiotics work to destroy harmful bacteria in the digestive system and they interact with the gut's immune system," says Dr. Connolly. "They've been shown to help overall digestive function, including offering protection from some digestive infections and a reduction in the incidence of diarrhea, as well as a number of other digestive upsets. "
"Many clinical studies have shown the effectiveness of L. reuteri Protectis," Dr. Connolly said. "Two recent studies showed its benefit in treating Functional Abdominal Pain (FAP) in kids as well as its benefit in significantly reducing crying times in colicky babies. In addition, many studies have showed that L. reuteri Protectis reduces the duration and severity of various forms of diarrhea. For instance, it has been shown to improve acute diarrhea due to bacteria or virus, antibiotic-associated diarrhea and diarrhea associated with chemotherapy. BioGaia's probiotic has also been clinically shown to protect children in day care from episodes of diarrhea."
"The mechanism by which L. reuteri Protectis improves the gut system is not fully understood," Dr. Connolly said. "But its positive impact on gastrointestinal health is well documented. It is known that BioGaia's L. reuteri Protectis stimulates the gut's immune system.  It is possible that L. reuteri Protectis somehow interacts with the gut's immune system in a way that influences the gut's nervous system and alters movement in the muscles of the gut's walls."  
A recent study, published in the Romanian medical Journal Infectio' ro, concluded that HIV-infected patients who were predominantly taking anti-retroviral therapy, and who had acute diarrhea caused by a variety of gastrointestinal infections, recovered significantly faster from the diarrhea if they took BioGaia together with rehydration therapy, than those who did not take BioGaia. The duration of the diarrhea was reduced from three days to two. Supplementation with BioGaia improved quality of life and reduced discomfort in HIV patients with acute diarrhea.
You may have heard that people should eat yogurt after a course of antibiotics to restore the good bacteria in their stomachs and prevent diarrhea. We asked Dr. Connolly to comment on that.
"The live bacteria in yogurt are there to ferment the milk in order to provide the taste and texture of the product," Dr. Connolly said. "However, these bacteria generally die in the stomach and do not reach the lower gut, so they can't have an effect on the gut flora after antibiotic use. Therefore, the use of yogurt with antibiotics may be perceived as beneficial, but cannot be related to the bacteria that are found in the yogurt."
"Supplementing with a true probiotic that is documented to resist attack by stomach acid and juices, and is shown to reach the lower gut, can have positive effects in association with gut symptoms (such as pain, diarrhea, gases etc.) caused by the antibiotic. BioGaia's probiotic is an example of a 'true' probiotic." Dr. Connolly recommends consulting with a healthcare professional before taking any probiotic.
BioGaia products can be purchased at independent and chain retail pharmacies across the U.S., Gut-Health.com, and at online retail outlets, including Walgreens.com and RiteAid.com.
Copyright 2018, Positive Health Publications, Inc.
This magazine is intended to enhance your relationship with your doctor - not replace it! Medical treatments and products should always be discussed with a licensed physician who has experience treating HIV and AIDS!