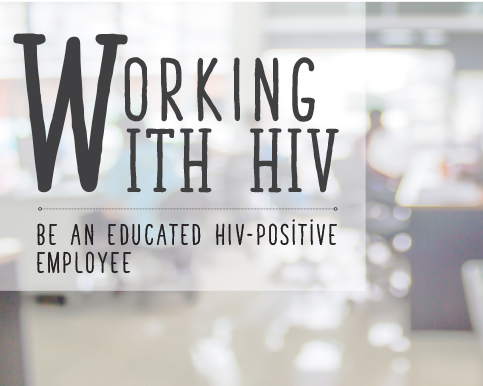 As an HIV positive employee, you have the same responsibility to your employer as any other employee: To do the job you were hired to do to the best of your ability.
The fact that you are an HIV-positive employee should not matter any more than if you had diabetes or any other chronic ailment or disease. Unfortunately, because there is still a stigma associated with HIV and so many people - may- be your superiors or co-workers - who are uninformed or just ignorant about the HIV virus, you need to understand your protections and options in case a problem does arise at work.
First, know that there is no legal reason to disclose your HIV status at the workplace. So, be very careful if you do and make sure there is a good reason for it. One reason you may want or need to is if you are unable to perform the basic functions of your job due to HIV-related issues. Even in these situations, you can often just fall back on the Americans with Disabilities Act by saying you have an illness or disability covered by the ADA.
Be careful and think through disclosing your status to co-workers who are or who have become friends. Even if you ask for confidentiality, a slip of the tongue, gossip or even a souring of the relationship could put you in a situation you otherwise wouldn't have to deal with. Also, don't assume the outcome of disclosing your status with a co-worker will be well accepted. It might not.
KNOW YOUR RIGHTS AND PROTECTIONS
Working people with HIV are protected by the Americans with Disabilities Act (ADA), passed by congress in 1990.
You are considered to have a "disability" if you have a physical or mental impairment that substantially limits one or more major life activities. People with HIV, both symptomatic and asymptomatic, are protected by the law.
Here are some questions and answers about your protections and rights provided by the ADA:
Q: What employers are covered by the ADA?
The ADA prohibits discrimination by all private employers with 15 or more employees. In addition, the ADA prohibits all public entities, regardless of the size of their work force, from discriminating in employment against qualified individuals with disabilities.
Q: What employment practices are covered by the ADA?
The ADA prohibits discrimination in all employment practices. This includes not only hiring and firing, but job application procedures (including the job interview), job assignment, training, and promotions. It also includes wages, benefits (including health insurance), leave, and all other employment-related activities. Examples of employment discrimination against persons with HIV would include:
- An automobile manufacturing company that had a blanket policy of refusing to hire anyone infected with HIV.
- An airline that extended an offer to a job applicant and then rescinded the offer when, after the applicant took an HIV test as part of the airlines required medical examination, the applicant tested positive for HIV.
- A restaurant that fired a waitress after learning that the waitress had HIV.
- A university that fired a physical education instructor after learning that the instructor's boyfriend has HIV.
- A company that contracted with an insurance company that had a cap on health insurance benefits provided to employees for HIV-related complications, but not on other health insurance benefits.
Q: Who is protected by the employment provisions of the ADA?
The ADA prohibits employment discrimination against qualified individuals with disabilities. A "qualified individual with a disability" is a person who meets legitimate skill, experience, education, or other requirements of an employment position he or she holds or seeks, and who can perform the "essential functions" of the position with or without reasonable accommodation.
Q: What is an "essential function" of the job?
Essential functions of the job are those core duties that are the reason the job position exists. For example, an essential function of a typists position is the ability to type; an essential function of a bus drivers position is the ability to drive.
Requiring the ability to perform "essential" functions assures that an individual with a disability will not be considered unqualified because of his or her inability to perform marginal or incidental job functions.
Q: What is a "reasonable accommodation?"
A "reasonable accommodation" is any modification or adjustment to a job, the job application process, or the work environment that will enable a qualified applicant or employee with a disability to perform the essential functions of the job, participate in the application process, or enjoy the benefits and privileges of employment. Examples of "reasonable accommodations" include: making existing facilities readily accessible to and usable by employees with disabilities; restructuring a job; modifying work schedules; acquiring or modifying equipment; and reassigning a current employee to a vacant position for which the individual is qualified.
Q: Can an employer consider health and safety when deciding whether to hire an applicant or retain an employee who has HIV?
Yes, but only under limited circumstances. The ADA permits employers to establish qualification standards that will exclude individuals who pose a direct threat -- i.e., a significant risk of substantial harm -- to the health or safety of the individual or of others, if that risk cannot be eliminated or reduced below the level of a "direct threat" by reasonable accommodation. However, an employer may not simply assume that a threat exists; the employer must establish through objective, medically supportable methods that there is a significant risk that substantial harm could occur in the workplace.
In addition to the ADA, HIV-positive employees as well as other employees are protected by the Health Insurance Portability and Accountability Act of 1996 (HIPAA), which carries heavy fines for disclosing an employee's medical history and the Family Medical Leave Act (FMLA), which provides up to 12-weeks of unpaid leave to deal with medical issues. You can use the FMLA time incrementally for doctor's visits as an example.
If Discrimination Does Exist, You Have Options.
Because you have protections under the ADA as an HIV-positive employee doesn't mean you can't be fired or discriminated against. It just won't be for the reason that you are HIV-positive. If you feel that you have been unfairly terminated or discriminated against, here are some things you can do and places to look for help.
First, keep a detailed file of all performance reviews and any other documented, work related items – good or bad.
Next, if you suspect discrimination, follow the chain-of-command properly at your place of business until the problem is resolved – supervisor, human resources, officer, etc.
If the problem can't be solved within the company, it may be time to look for help outside. Here are some places to start:
- An applicant or employee can file a complaint with the nearest Equal Employment Opportunity Commission Office within 180 days of the discriminatory incident. The EEOC will investigate and attempt to correct the problem. It may also issue the employee a "right to sue" letter, which allows the victim to sue the employer directly in federal court for violations of the ADA.
- Your local AIDS Service Organization (ASO). ASOs have a wealth of information, contacts and services to help you.
- U.S. Department of Justice's ADA website at www.ada.gov.
- The American Civil Liberties Union (ACLU) at www.aclu.org. Search under "HIV discrimination."
If you consult an attorney make sure he has an HIV-related background. It's best to get a referral from your ASO. Most employment discrimination issues have statutes of limitations. Be sure to act if you feel you've been a victim of discrimination or you could lose your rights.
Copyright 2018, Positive Health Publications, Inc.
This magazine is intended to enhance your relationship with your doctor - not replace it! Medical treatments and products should always be discussed with a licensed physician who has experience treating HIV and AIDS!