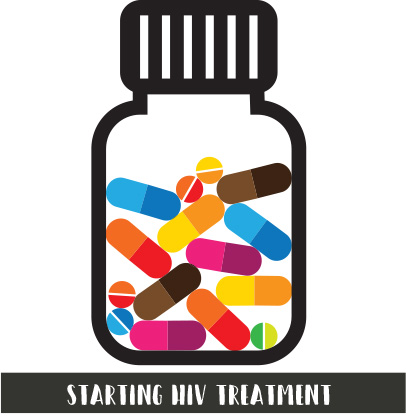 HIV diagnoses are not all the same. Some people find out early on and others discover their status years down the road after infection. HIV can progress very slowly. It can take 10-years or more, depending on the individual and other factors, for HIV to progress to AIDS without treatment. But you don't want it to get to that point. Allowing your HIV to progress to AIDS or get closer to that point, can do damage to your body that you can prevent by monitoring and starting treatment before it gets to that point.

Here in the United States we have become very aggressive with treat ment. In fact, the current Department of Health and Human Services (DHHS) Guidelines states, "Antiretroviral therapy (ART) is recommended for all HIV-infected individuals, regardless of CD4 T lymphocyte cell count, to reduce the morbidity and mortality associated with HIV infection." The CD4 T-cell count used to be a major determining factor in when someone would start treatment (we'll discuss this later in the article).

The most important thing you can do after you receive an HIV diagnosis is to begin seeing a doctor. Make sure the doctor you choose is an HIV specialist so they are current on all of the new treatments and trends. This is very important because there have been so many improvements and conveniences to medications over the past several years. Your HIV specialist can begin monitoring your body and your HIV. Seeing a doctor regularly will help assure you'll start treatment, get it right and stick with it.

Your First Doctor Visit
Your HIV specialist will start out with a basic clinical assessment. This assessment will measure where you are with regard to your HIV virus status, can determine other existing medical conditions, check medications you are currently taking to consider potential drug interaction problems and other factors that can help in making your first shot at a regimen an effective and trouble-free one. This is also a good time to make sure you have a good rapport with the doctor and his staff because you'll likely be a frequent visitor. Many people have actually become friends with their doctors and staff.

It is extremely important that you are completely honest with your doctor and staff members. If you think a question might be a little too personal or intrusive, just ask why the question is important and listen to the answer rather than being evasive. Things you think are minor or have no significance can actually be very important to your treatment.

Your doctor will review your tests and information then work with you on an individualized regimen that will be based on many of the following factors:

- Pre-existing physical conditions, ailments and diseases
- Potential adverse drug effects
- Potential drug interactions
- Gender and if you are pregnant or planning to be
- Drug resistance testing
- Your CD4 count
- Adherence ability
- Lifestyle and convenience issues such as pill burden (amount of pills) and frequency of dosing.

It's Recommended To Start Treatment Immediately.
The one test that you'll be given which is still important and used to determine more than anything else clinically when you would start therapy is a CD4 test.

The CD4 test measures your CD4 T-cells or just "T-cells." Your T-cells play an important part in the immune system and HIV, as time goes on, destroys them. The average person without HIV has between 500 and 1200 T-cells (which are measured within a cubic millimeter of blood). When your T-cells drop below 200 or when you have an opportunistic infection, you are considered to have AIDS.

The World Health Organization (WHO) guidelines earlier (2006) gave the 200 T-cell mark as the point to start treatment. This is still a starting point in some developing countries. Until the recent guidelines change for the U.S., most physicians would start patients on therapy between the 350 and 500 T-cell mark. Many physicians who recommend starting sooner did so to make sure there is no damage at all to the immune system.

Now however, findings from two large trials that addressed the optimal time to initiate ART - START (Strategic Timing of Antiretroviral Therapy) and TEMPRANO—have led the guidelines panel to recommend immediate treatment, for all patients, regardless of CD4 cell count. Both studies demonstrated about a 50% reduction in morbidity and mortality among HIV-infected individuals with CD4 counts greater than 500 to receive ART immediately versus delaying initiation of ART. Prompt initiation of ART is particularly important for patients with certain clinical conditions which are the following:

- Pregnancy
- AIDS-defining conditions, including HIV-associated dementia (HAD) and AIDS- associated malignancies
- Acute opportunistic infections
- Lower CD4 counts (e.g., <200 cells/mm)
- HIV-associated nephropathy (HIVAN)
- Acute/early infection
- HIV/hepatitis B virus coinfection
- HIV/hepatitis C virus coinfection

The decision to initiate treatment will also include consideration of a patient's comorbid conditions (additional diseases or disorders) and his or her willingness and readiness to initiate therapy. On a case-by-case basis, ART may be delayed because of clinical and/or psychosocial factors however, therapy should be initiated as soon as possible.

Your First HIV Treatment Regimen
When you and your doctor decide it's time to start therapy, you can discuss your first combination of drugs that you'll take – your first-line therapy.

This used to be tricky and there were terrible side-effects but that was then, back in the early days of the disease, and this is now. Today's drugs are numerous, tremendous, easy to take, easy to tolerate, easy to adhere to and most of all highly effective.

There are many, highly tested and FDA approved drugs for HIV treatment, including multi-class combination drugs and Single Tablet Regimens (STRs). The combination drugs (some of which have been around for years while a few are relatively new) are tremendous because they combine everything you need in just one or two pills that you take just once-a-day.

More information about the newest and preferred HIV drugs, preferred treatment regimens and current guidelines can be found in the 17th Annual HIV Positive! magazine Treatment Guide being published in April or you can go to the U.S. Department of Health and Human Services website at www.hhs.gov, the U.S. Food and Drug Administration website at www.fda.gov and our website at www.hivpositivemagazine.com.

Also Consider:
Diet, Nutrition and Exercise
What you eat and how you take care of your body helps determine the long-term health of anyone. Since people with HIV have an immune system that is compromised, it is even more important to eat healthy foods and start up an exercise regimen of some sort. It can even start as simply as walking up stairs instead of taking the elevator. Remember, you're going to live a long life. Diet and exercise will make the quality of your life all the better.

Visit Your Local ASO
Most AIDS Service Organizations can give you everything from simple advice to in-depth clinical counseling. They also can advise you on specialists, if you don't already have one and what federal, state and local programs you may be eligible for.

Addiction And Depression
One very important personal factor to keep in mind when you start treatment is to make sure your mind is right. You'll be on therapy for the rest of your life once you start and adherence (taking your meds 96%-plus on time every time) is key. If you have any sort of drug or alcohol dependency or suffer from any kind of depression that might interfere with adherence, let your doctor know and take the steps to recovery before you start HIV treatment. HIV can become resistant to your regimen if you don't adhere to it.

Paying For Your Meds
Your HIV regimen will need to be taken, at least at present, for the rest of your life. And, you more than likely have options for your first regimen. HIV medications are all expensive so make sure that what you decide to take, you can afford both now and in the future. The ACA/Obamacare has made insurance available but it may not be exactly affordable due to insurance companies putting HIV meds on top tiers of their plans and making those plans still very expensive. ASO case managers can be of help with eligibility for some programs and they are aware of other programs offered by pharmaceutical companies.

If you are eligible for an AIDS Drug Assistance Program (ADAP) in your state and the medication(s) you will be taking are covered but think you may be moving to another state in the future, make sure the medication is covered and you are eligible for ADAP in the state you might be moving to. ADAP can vary greatly from state-to-state, especially with regard to qualifying incomes.




Copyright 2018, Positive Health Publications, Inc.

This magazine is intended to enhance your relationship with your doctor - not replace it! Medical treatments and products should always be discussed with a licensed physician who has experience treating HIV and AIDS!