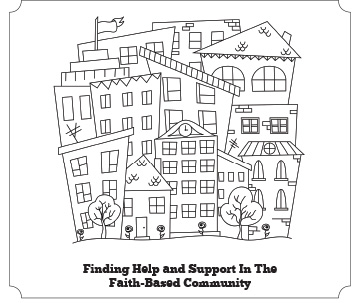 One of the most important things you can do for yourself, whether you're newly diagnosed or have been struggling with the diagnosis for awhile and trying to go it alone, is to find help and support from others outside your medical caregivers. One thought, especially if you live in more of a rural community without a lot of HIV support organizations is the church or spiritual groups.

Faith and spirituality is very personal. Some find comfort in their faith, organized religion and spirituality during times of crisis, change and indecision – especially if family or friends aren't near. Most faith-based organization leaders are trained counselors that can help you deal with life changes – like an HIV positive diagnosis.

If you have a close by or local ASO, that's always a good place to start for assistance in finding an accepting place of faith close to you, but if not, the following is a short directory that you also might find helpful.

American Baptist Churches USA; P.O. Box 851; Valley Forge, PA 19482-0851;(610) 768-2000 or (800) 222-3872. www.abc-usa.org

Southern Baptist Convention; 901 Commerce Street; Nashville, TN 37203-3699; (615) 244-2355; www.sbc.net

Ark of Refuge; 1025 Howard Street; San Francisco, CA 94103; (415) 861-5382; www.arkofrefuge.org

Balm in Gilead, Inc.; 620 Moorefield Park Drive; Suite 150; Midlothian, VA 23236; (804) 644-BALM (2256). www.balmingilead.org

Central Conference of American Rabbis; 355 Lexington Avenue, 18th floor; New York, NY 10017; (212) 972-3636. www.ccarnet.org

Union for Reform Judaism Congregational Support (formerly Union of American Hebrew Congregations); 633 3rd Avenue; New York, NY 10017; (212) 650-4000; www.urj.org

Evangelical Lutheran Church in America; Division for Social Ministry Organizations; 8765 West Higgins Road; Chicago, IL 60631; (800) 638-3522, ext. 2710; www.elca.org

Lutheran Services of America; 100 Maryland Ave., N.E.; Suite 500; Washington, DC 20002 (800) 664-3848; www.lutheranservices.org

Health Ministries USA; Presbyterian Church; 100 Witherspoon Street; Louisville, KY 40202; 888-728-7228; www.pcusa.org

Presbyterian Health, Education and Welfare Association - Presbyterian AIDS Network; 100 Witherspoon Street, Room 4617; Louisville,KY 40202; 888-728-7228 ext. 5800; www.pcusa.org/phewa

HIV/AIDS Ministry - Seventh Day Adventist; 12501 Old Columbia Turnpike; Silver Spring, MD 20904-6600; (301) 680-6000; www.adventist.org

Metropolitan Interdenominational Church, First Response Center; 2128 11th Avenue North; Nashville, TN 37208; www.metropolitanfrc.com

National Episcopal AIDS Coalition (NEAC); P.O. Box 5142; Greensboro, NC 27435; www.neac.org

Religious Coalition for Reproductive Choice; 1413 "K" Street N.W., 14th Fl.; Washington, DC 20005; (202) 628-7700; www.rcrc.org

United Church of Christ - National and Global Ministries; 700 Prospect Avenue; Cleveland, OH 44115; (216) 736-2100; www.ucc.org

United Methodist Church; General Board of Church and Society; 100 Maryland Avenue N.E.; Washington, D.C. 20002; 202-488-5600; www.umc-gbcs.org

Unitarian Universalist Association AIDS Resources Program; 24 Farnsworth Street; Boston, MA 02210; (617) 742-2100, ext. 451; www.uua.org

Universal Fellowship of Metropolitan Community Churches; 4607 Prospect Avenue; Los Angeles, CA 90027; (323) 669-3434; www.mccla.org

The Riverside Church Global HIV/AIDS Ministry; 490 Riverside Drive; New York, NY 10027; 212-870-6700; www.theriversidechurchny.org

National Muslim AIDS Initiative; 552 Southern Blvd.; Bronx, NY 10455; 718-585-8585; www.angelfire.com/az/azizpage/nmai.html

Catholic Archdiocese of Los Angeles HIV/AIDS Ministry; 3424 Wilshire Blvd.; Los Angeles, CA 90010; 213-637-7000; www.la-archdiocese.org/org/hiv/pages/about.aspx

Note: As noted with the Los Angeles Catholic Archdiocese, the Archdiocese and Catholic Charities in many cities in the U.S. have HIV counseling and ministries so they are too numerous to list here. Please contact your local Archdiocese or Catholic Charities office for assistance.




Copyright 2018, Positive Health Publications, Inc.




This magazine is intended to enhance your relationship with your doctor - not replace it! Medical treatments and products should always be discussed with a licensed physician who has experience treating HIV and AIDS!