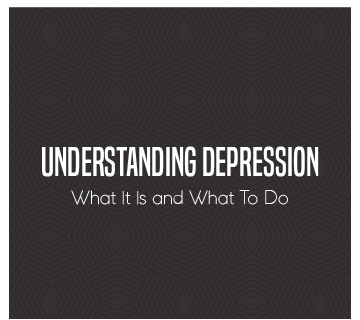 The United States Centers For Disease Control And Prevention (CDC) estimates that 1-in-10 people in America suffer from some form of depression. There are, of course, groups of people who have a higher likelihood to suffer from depression and people with a chronic disease is one of those groups. One study estimates that 22% of people living with HIV also suffers from depression.
Untreated depression is serious business for the average person but when you're a person living with HIV, it can be more serious because the effects of depression can cause you to not take your meds and adversely affect your health that can cause other problems. It also can be harder to diagnose because it can sometimes be disguised as side effects of some HIV meds and it can also be falsely attributed to one or many of the decisions people with HIV often have to make regarding their HIV status that the average person doesn't have to deal with.
The first thing to do if you feel you might be battling depression is to consult your regular HIV specialist!
Your HIV doctor who knows your condition will point you in the right direction. This is so important because you have HIV and even some over the counter herbal supplements known for helping with depression like St. John's Wort can weaken or interfere with the potency and effectiveness of your HIV meds. There also could be some drug interaction problems between standard, front line depression drugs and the particular HIV meds you are on.
Since your HIV doctor will first know you are HIV positive and what meds you are taking, once he has evaluated you, he can choose the way he wants to go. With HIV and medications for depression, the phrase that works is "start low...go slow." This means that your doctor will at first prescribe a low dose of a drug and slowly step it up until you are feeling better.
You may also find you have a choice of depression medications. Some of the front line generic and brand names are: Citalopram (Celexa), Sertraline (Zoloft), Fluoxetine (Prozac), Paroxetine (Paxil) and Escitalopram (Lexapro). If you do have a choice, make sure what you choose is covered by your insurance or your ADAP in the state where you live.
To know some of the triggers or crisis points for people living with HIV, a study by Duffy V. lists the following:
Disclosure of HIV status to family and friends
Introduction of medication
Occurrence of any physical illness
Recognition of new symptoms/progression of the disease (major decrease in CD4 cells, increase in viral load)
Necessity of hospitalization
Death of a significant other
Diagnosis of AIDS
Re-entry into the job market, school and/or giving up disability
Major life changes (end of a relationship, loss of a job)
Recognizing some of the triggers is important but also learn to recognize the symptoms. If you are experiencing some of the symptoms listed below and have been for 2-weeks or more, it is probably time to make an appointment with your doctor:
- Constant feeling of sadness
- Feeling no emotion at all
- Sleeping too much or not at all
- Feeling overly tired
- Not able to concentrate
- Can't be happy with things that used to make you happy
- Appetite and weight gain or loss
- Feelings of guilt
- Feeling hopeless about a situation
- Suicidal thoughts
After you visit your doctor and if he himself doesn't prescribe these, here are a few things you can also do to help with depression and your health in general:
- Avoid drug and alcohol use
- Get regular exercise
- Eat nutritious food
- Keep stress under control
- Get plenty of rest
- Get a support group of family, friends or at your local ASO
- Try meditation, yoga and massage

These things can be difficult to start if you've never done them before but most are free and once you start them, you'll find they not only help with depression but enhance the rest of your life as well.
Copyright 2018, Positive Health Publications, Inc.
This magazine is intended to enhance your relationship with your doctor - not replace it! Medical treatments and products should always be discussed with a licensed physician who has experience treating HIV and AIDS!