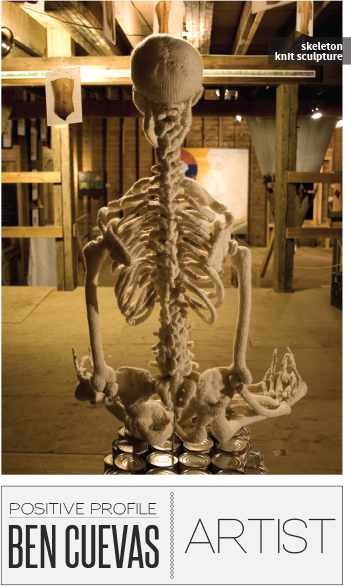 Ben Cuevas is an extraordinary artist. His work, in his own words, "Spans a wide range of disciplines including installation, sculpture, photography, performance, video and sound. Often incorporating several of these elements into any given piece."
Like so many talented artists, his work can tell you more about him than words. Which is why we've included so many examples within this article. But his story, especially the fact that he is HIV-positive, needs to be told because it should inspire so many that are HIV-positive and need an example of someone who is accomplishing great things in light of their condition.
Born in Riverside, California in 1987, Ben moved to Los Angeles when he was 19 to study film. He realized that film wasn't for him and after that he took two months to backpack through Europe. He had kept a journal of his travels the entire time. When he returned to the states, he made a stop-off in New York City where a friend of his lived. The friend was going to attend Hampshire College in Amherst, Massachusetts.
Ben was interested Hampshire's alternative, self-directed pedagogy, so he applied and was accepted, planning to concentrate in creative writing. A basis for his creative writing were his journals that he kept from Europe. Ben said, "The journals were stolen out of my car, and I had to ask myself, 'If the creative writing path was really meant for me?'"
Ben said, "While I was on a break from school, a friend who'd worked for an artist installing a piece at the Whitney Biennial invited me to come down to New York and check out the show. We toured the sprawling exhibition together; all the while my friend regaled me with stories about what it was like installing art at the Biennial and working with all the artists. That was the moment when it really clicked for me that the art world isn't some far-off, obscure thing. It felt within my grasp. That was when I decided I really wanted to be an artist; I felt like it was really possible."
After he graduated, he was invited to be an artist-in-residence at the Wassaic Project, an art collective in New York State. He said, "I was able to be a full-time, working artist with my own studio, and exhibited my work at the collective too." It was there that he created a piece titled Transcending the Material, which featured a life-sized, human skeleton made of yarn that Ben knit bone by bone, "as if to transcend the very material of wool that it was made from."
After his success with the art collective, he moved back to Los Angeles and said he immersed himself into the 'queer art scene' that helped fuel his creativity and direction. He said, "A queer person who is HIV-positive has a certain relationship with their body and that has impacted my art. It has an autobiographical element to it."
Ben said, "I'm most proud of my 'Skeleton' knit sculpture because of it's technical difficulty. I wasn't sure I could do it, but once I did, I felt like I could knit anything. I'm also proud of the 'Knit Veins' installation. It takes up a full 48-feet of wall space."
The "Veins" installation, Ben continued, "Speaks to me as an HIV-positive person. It's like my way of giving blood. When I made that, I was thinking about how there is such a taboo around blood, and giving blood, even for HIV negative men who have sex with men, who're still blocked from donating blood. I'm proud of that piece because it does what I always want my work to do: merge the conceptual, with the political, technical, and material.
"My HIV diagnosis actually made me more eager than ever to accomplish things - get my work out there. It puts you more in touch with your mortality and gives new meaning to 'No time like the present.'"
Ben's HIV diagnosis in 2011 was better than some. He said, "My diagnosis was knowledgeable and caring. My doctor was gay and I lived in a community that was very well informed. As difficult as the diagnosis was, that made the process so much easier.
"At first I was numb and really didn't feel anything for a day or so before I realized that this was going to be part of my reality. Then I went through depression for about three months. I finally realized that I couldn't do it alone. I got a therapist and it helped so much. I knew intellectually that I wasn't going to die, but there was still a heaviness and a profound identity shift - I wasn't HIV-negative anymore."
Ben recommends finding an LGBT-affirmative therapist to help you through the depression and rough patches.
His advice to the newly diagnosed is, "Don't try to deal with it alone. Beyond a therapist, try to find others who are HIV-positive. It helps so much to talk to people who have been through it. Finding community is so important.
Buck-up - you're going to live a long life. You're going to die of something else, most likely." He said with a chuckle.
So what's Ben excited about and looking forward to these days?
He said, "Three things really. I'm looking forward to continuing my series of wall hangings, called 'Tweetables' featuring knit text in 140-characters or less. A curator has also been in touch about a project dealing with the history of HIV and AIDS. I can't say a lot about it right now but if our proposal gets accepted, it should be a good exhibition in the next year or so. I'm also really excited about promoting a book published through Visual AIDS titled, 'DUETS: Ben Cuevas and Annie Sprinkle in Conversation.' I'm thrilled to have it out in the public."
For more information on Ben and his art, please check out his website at www.bencuevas.com/.
For more information on Visual AIDS, where Ben is a Artist Member visit www.visualaids.org/. And for information on DUETS: Ben Cuevas and Annie Sprinkle in Conversation, please visit www.visualaids.org/projects/detail/duets-ben-annie-in-conversation.
Copyright 2018, Positive Health Publications, Inc.
This magazine is intended to enhance your relationship with your doctor - not replace it! Medical treatments and products should always be discussed with a licensed physician who has experience treating HIV and AIDS!