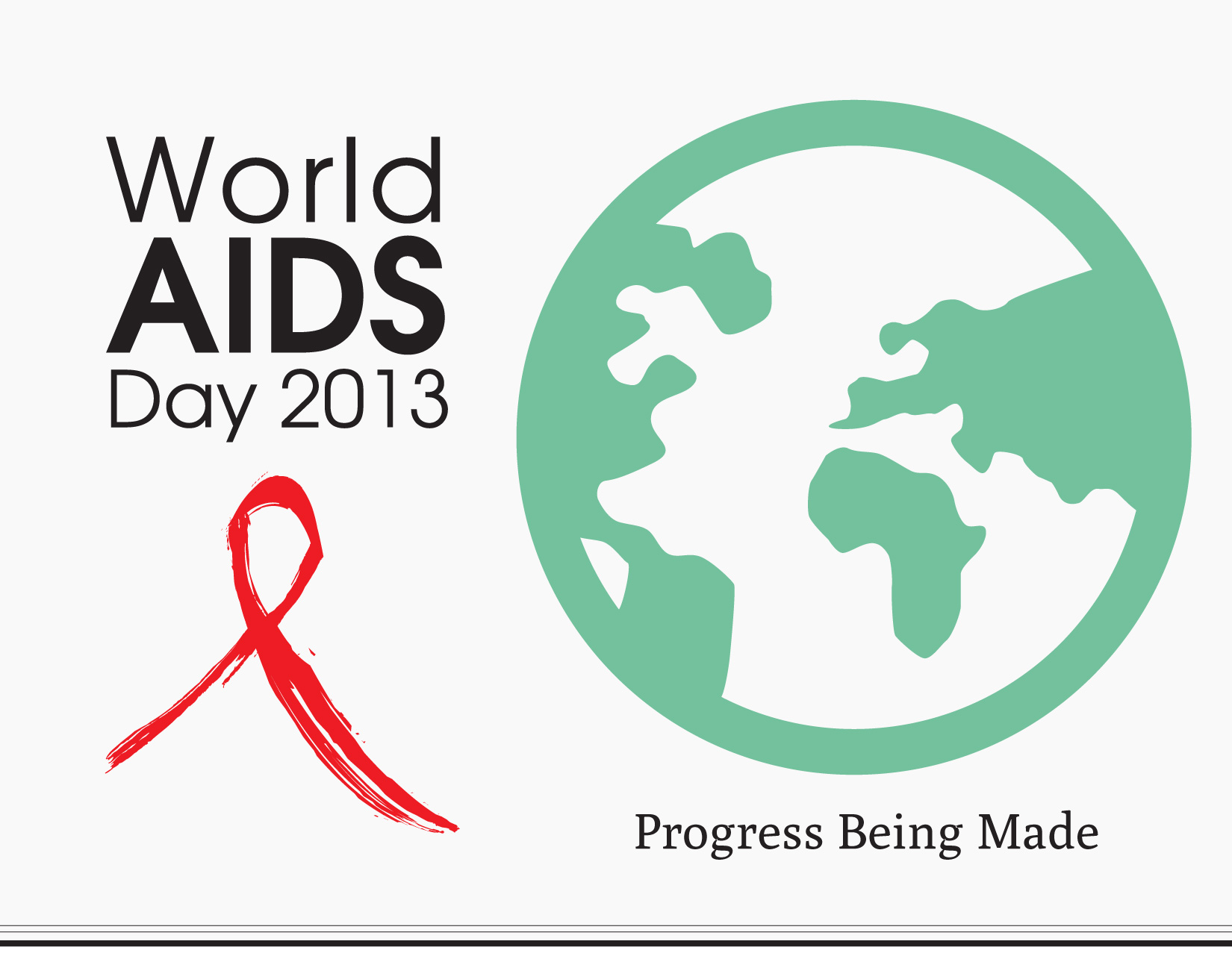 Progress Being Made!
World AIDS Day 2013 is the 25th anniversary of the first World AIDS Day. The theme that was kicked off in 2011 is supposed to be an on-going theme to last until 2015. The theme is:
Getting To Zero
"Getting To Zero" is a three-pronged strategy with the goals being:
Zero New HIV Infections
Zero Discrimination
Zero AIDS-Related Deaths
Creation of the first comprehensive National HIV/AIDS Strategy, rooted in a simple vision that every person should get access to life-extending care, regardless of age or gender, race or ethnicity, sexual orientation, gender identity or socio-economic status.
Continued support of the Ryan White CARE Act to help underserved communities.
Lifting of the entry ban so that people with HIV are no longer barred from the United States.

Issuing of an executive order creating the HIV Care Continuum Initiative to boost federal efforts to prevent and treat HIV.
Signing of the HIV Organ Policy Equity Act, to finally allow research into organ donations between people with HIV.
The clearing of the AIDS Drug Assistance Program (ADAP) waiting lists in all 50-states. This list had 9,000 people on it just 2-years ago.
A new initiative at the National Institutes of Health to advance research into an HIV cure. The federal government is going to redirect $100 million into this project to develop a new generation of therapies.
Moving into 2014, and thanks to the Affordable Care Act (ObamaCare), millions of insured Americans will be able to get tested free of charge. Americans who were uninsured will now be able to have access to affordable health care coverage, and beginning in January, no American will be again denied health insurance because of their HIV status.
U.S. Department of Health and Human Services Secretary Kathleen Sebelius stated, "The U.S. Preventive Services Task Force recommends that clinicians screen for HIV infection in adolescents and adults ages 15-65 – and that all pregnant women are screened for HIV.
The new health care law makes this possible, by requiring private health care plans to cover HIV testing and other preventive services at no out-of-pocket cost to the patient.
It makes it illegal for insurance companies to deny children coverage because they have HIV. And no adult can be denied coverage beginning in 2014.
The law makes it illegal for insurance companies to rescind someone's coverage when they get sick because they made a mistake on their paperwork … or to put a cap on the dollar amount of health benefits they're willing to cover for an HIV patient over their lifetime.
Next year, annual dollar limits on benefits will be against the law as well.
And in most health care settings, it will finally be illegal to discriminate against someone because of their gender identity, to withhold care from someone when they need it most because of their gender expression.
The new Health Insurance Marketplace is an important tool in the fight against HIV/AIDS."
Sebelius further stated with regard to Medicaid, "Medicaid expansion is another critically important tool. For lower-income Americans, Medicaid expansion can literally be the difference between life and death.
So far, 25 states and the District of Columbia have decided to expand Medicaid to millions more lower-income Americans.
If all 50 states were to expand, nearly 80% of the 41.3 million uninsured Americans who would be eligible for new coverage through the Marketplace would qualify for Medicaid, CHIP, or financial assistance with a Marketplace plan.
This would go a very, very long way toward extending the promise of comprehensive health care services to the most vulnerable HIV/AIDS patients, whose suffering is so often compounded by their limited resources."
There's certainly more to be done and most people around the world are not as fortunate as we are in this country but thanks to activism, clinical research, governmental funding and changes to our healthcare system, much has been accomplished in 2013 to commemorate World AIDS Day and moving into 2014.
Copyright 2018, Positive Health Publications, Inc.
This magazine is intended to enhance your relationship with your doctor - not replace it! Medical treatments and products should always be discussed with a licensed physician who has experience treating HIV and AIDS!