Bristol-Myers Squibb and Alvin Ailey American Dance Theater
Announce First-of-Its-Kind Collaboration to Express the Stories of
People Impacted by HIV/AIDS through Dance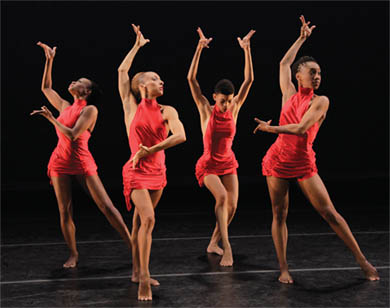 2011 REYATAZ "Fight HIV Your Way" Contest
Call for Entries
Bristol-Myers Squibb Company (BMS visit at www.bms.com.) and the Alvin Ailey American Dance Theater have announced the launch of the 2011 REYATAZ "Fight HIV Your Way" contest. The contest aims to help raise awareness about HIV/AIDS among the general public and inspire people impacted by the disease to continue their fight.
Now in its third year, the 2011 REYATAZ "Fight HIV Your Way" contest breaks new ground, incorporating the power of dance to celebrate the inspiring stories of selected individuals across the country who are fighting HIV their way. From December 1, 2010 through February 28, 2011, individuals touched by HIV and AIDS are invited to share their stories as a photo and essay. Entries can be submitted via the form on www.fightHIVyourway.com. or mailed to "2011 HIV Photo Contest," Dept. 7372, PO Box 5010, Stacy, MN 55079-5010. Entries must be received by February 28, 2011. Bristol-Myers Squibb will announce the ten first place winners in July, 2011.  These winning entries will be the inspiration for a new dance by Alvin Ailey American Dance Theater, created by a renowned choreographer selected by Artistic Director Designate Robert Battle. The work will have its world premiere during Ailey's New York City Center season in December 2011 and be performed across the country as part of a 2012 national tour.
"Today, as we open Ailey's New York season celebrating 50 years of Alvin Ailey's inspiring Revelations and announce the launch of the Reyataz 'Fight HIV Your Way' contest, the poignancy of this date couldn't be stronger: we lost our founder, Alvin Ailey, to the disease 21 years ago on December 1st, 1989," said Artistic Director Judith Jamison. "Alvin Ailey American Dance Theater is proud to be paying homage to the thousands of individuals fighting HIV their way and look forward to unveiling this original collaboration next year."
"Bristol-Myers Squibb and the Alvin Ailey American Dance Theater both have longstanding commitments to supporting the fight against HIV and AIDS. We are honored to collaborate with Ms. Jamison and The Ailey Organization, coming together and helping to continue dialogue about this disease," said Raymond Sacchetti, senior vice president, U.S. Virology, Bristol-Myers Squibb. "The 2011 extension and evolution of the REYATAZ 'Fight HIV Your Way' contest exemplifies Bristol-Myers Squibb's ongoing commitment to increasing public awareness for people with HIV/AIDS."
An expert panel of judges will evaluate the contest entries based on the impact of the photographs' and essays' visual and verbal expression of the fight against HIV, creativity, originality and overall artistic quality.
"Dance is a transformational visual art that has the unique power to unite diverse audiences," said original Broadway Dreamgirl Sheryl Lee Ralph, a spokesperson for the National Minority AIDS Council and creator and producer of the HIV-inspired, award-winning Broadway shows Divas Simply Singing! and Sometimes I Cry. "Bristol-Myers Squibb's REYATAZ 'Fight HIV Your Way' contest provides people with a channel to express how they fight HIV their way. This year, with the Alvin Ailey American Dance Theater's involvement, the photos and essays will, literally, move - and continue to provide courage and strength for others with HIV."
For more information on the 2011 REYATAZ "Fight HIV Your Way" contest, including official rules, guidelines, and entry forms, visit www.fightHIVyourway.com.
Copyright 2018, Positive Health Publications, Inc.
This magazine is intended to enhance your relationship with your doctor - not replace it! Medical treatments and products should always be discussed with a licensed physician who has experience treating HIV and AIDS!