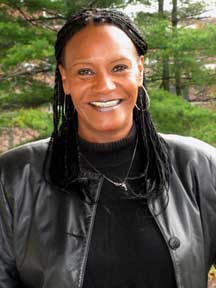 Long-term HIV survivor Janet Coleman tested positive in 1990 – five years before the first effective treatments for HIV infection were introduced.

"I went through depression and denial," Janet says. "The same as everybody else. I'd already had two heart attacks in 1988 – cardiac problems run in my family. So this was another health challenge that I didn't need."

Janet reached a turning point in 1998, when she saw fliers for the Maitri Adult Day Program in Yonkers, New York, for people with HIV/AIDS.

"I joined the Maitri progam in 1998," Janet says. "I had no idea what HIV was all about. That's where I started to get educated. I learned a tremendous amount from Ruth Olan, who was the head of the nursing department at the time. I got inspired by her. She opened my mind to so many aspects. I started to look into different places to find out about HIV. I like to think of myself as 'Miss Infoquest' – always trying to keep abreast of the latest information. When I can't find something in writing I ask the doctors and professionals."

As Janet puts it, "one training led to another training," and in September 14, 2004, Janet was hired by the Detox and Rehabilitation Department at Greyston to make presentations on HIV at shelters, detox and rehab facilities, health and community fairs. "I start with HIV 101 and go right on through HIV 108, 109… I talk about STDs, Hepatitis C, how to maintain your health, nutrition. People hear little bits and pieces. I try to be extremely thorough. People seem to like it so far!"

Janet is currently on a medical regimen that includes Truvada, Reyataz and Sustiva., which is keeping her virus in check. "I'm very adherent," Janet says. "I understand the actions of the drugs, and I haven't really had any problems. I'm also very spiritual. I've been lucky. God has always been in my corner."

On December 5, 2002, Janet had a serious set-back not related to her HIV. "I was assaulted, and my leg was stomped," Janet says. "The tibia was broken off."

She has been in treatment ever since, and the treatment has not been very successful. "I've suffered like a dog," Janet says. "It's a hard battle, but I won't give up. I'm a trooper."

Janet's advice to other people with HIV?

"Whatever treatment your physician puts you on, follow it to a 'T,'" Janet says. "In certain people, not all anti-retrovirals work. If you're having trouble, let your physician know so they can change or adjust your prescription. But don't stop on your own. You have to keep the drugs at a certain level in your bloodstream or you're opening the door to mutations. A lot of people go on drug holidays, they decide they don't want to take their drugs. I understand, as a person living with the disease, how hard it is. But you must stay adherent."

Through it all, Janet has kept her attitude positive with her spirituality, meditation, and alternative treatments like acupuncture and acupressure.

"Every morning when I wake up I thank God that I can get up and walk," Janet says. "I thank God that the virus is not kicking my ass like I thought it might. I thank God for my pastor and other people who take care of me. I thank God for Rob, my massage therapist, who knows where the pain is before I even say it, and makes it go away."

Janet noted that she has recently been on cable TV and radio in the Westchester area, talking about HIV.

"Maybe somebody heard my voice and will go for the help they need," Janet said. "That's my biggest thrill. That's what I'm about. I'm really committed to helping other people with the virus, committed to sharing information about HIV."

"Because if I knew then what I know now - I wouldn't be HIV-positive."




Copyright 2018, Positive Health Publications, Inc.

This magazine is intended to enhance your relationship with your doctor - not replace it! Medical treatments and products should always be discussed with a licensed physician who has experience treating HIV and AIDS!